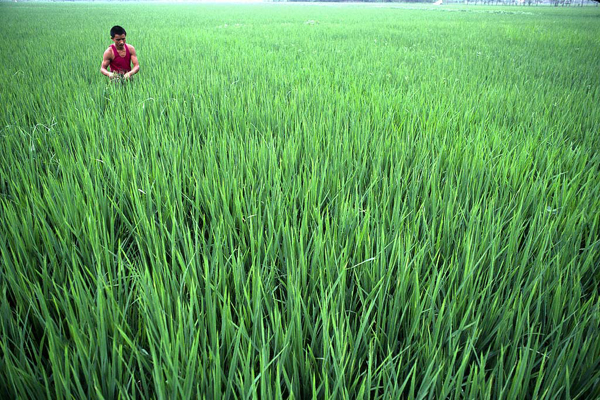 Dhaka, Bangladesh (BBN)– The agriculture loans disbursement grew by 35.46 per cent in the first two months of the current fiscal year (FY), thanks to a strengthened monitoring and supervision by the central bank.
Disbursement of the loans rose to BDT 27.94 billion during the July-August period of FY 2017-18 from BDT 20.63 billion in the same period of last FY, according to the central bank's latest statistics.
Of the BDT 27.94 billion, eight state-owned banks disbursed BDT 8.09 billion and the remaining BDT 19.85 billion by the private commercial banks (PCBs) and foreign commercial banks (FCBs).
All scheduled banks have achieved nearly 13.70 per cent of their total annual agricultural loans disbursement target for the FY18, fixed at BDT 204 billion.
The recovery of farm loans, however, rose by 34.20 per cent to BDT 28.66 billion during the period under the review from BDT 21.35 billion in the same period of the FY 17.
The central bank of Bangladesh is set to review the performances of agriculture credit disbursement and recovery of eight state-owned banks at a meeting, which is scheduled to be held in the central bank headquarters in Dhaka on September 26.
The eight state-owned banks are: Sonali Bank Limited, Janata Bank Limited, Agrani Bank Limited, Rupali Bank Limited, BASIC Bank Limited, Bangladesh Development Bank Limited (BDBL), Bangladesh Krishi Bank (BKB) and Rajshahi Krishi Unnayan Bank (RAKUB).
Talking to BBN, a BB senior official said the central bank will advice the public banks at the meeting to accelerate disbursement of the farm credits in the coming months to facilitate the farmers, particularly the flood-hit ones.
The BB will also review the performances of both agriculture credit disbursement and recovery of all PCBs and FCBs in October to know the overall situation, he added.
BBN/SSR/AD