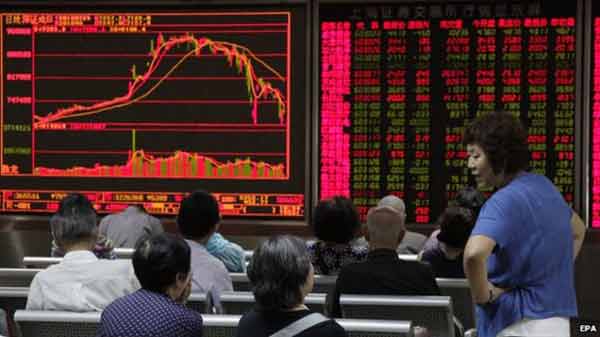 Tokyo, Japan (BBN) – Asian indexes lost ground on Thursday after U.S. stocks closed mostly flat following the passage of a comprehensive tax bill stateside. Greater China stocks, however, proved to be a bright spot in the region, with major indexes closing higher.
Japan's benchmark Nikkei 225 index shed 0.11 percent to close at 22,868.1 after the Bank of Japan's held monetary policy steady, a move widely expected by markets, reports CNBC.
The central bank noted that the Japanese economy was "expanding moderately" in a release. While price rises remain significantly below the BOJ's 2 percent target, it noted that inflation was expected to "continue on an uptrend."
In South Korea, the Kospi saw steeper losses, with the index declining 1.72 percent to end at 2,429.83. Tech blue-chips dragged the index lower, with Samsung Electronics falling 3.42 percent and SK Hynix losing 3.87 percent by the end of the day.
Investors monitored stocks that have proven sensitive to tensions between China and South Korea — the so-called THAAD-related names — following news that Beijing rejected visa applications for a mainland tour group intending to visit South Korea. Lotte Shopping shed 0.78 percent, Hotel Shilla tumbled 2.64 percent and Korean Air Lines closed 2.95 percent lower.
China routinely tries to punish Seoul for behavior it doesn't like by restricting companies from South Korea.
Over in Australia, the S&P/ASX 200 edged down by 0.25 percent to close at 6,060.4, with declines in heavily-weighted banking names outpacing gains seen among companies in the natural resources industries. The real estate investment trust sub-indexes fell 1.27 percent, leading losses on the broader index.
Markets in greater China bucked the downward trend in the region to notch gains. Hong Kong's Hang Seng Index gained 0.64 percent by 3:22 p.m. HK/SIN. Mainland markets reversed early losses to finish the session higher. The Shanghai Composite advanced 0.4 percent to end at 3,300.68 and the Shenzhen Composite tacked on 0.72 percent to close at 1,905.05.
The move higher came after Chinese leaders attending a key annual economic conference said China would continue its pursuit of structural reform in the year ahead, according to state news agency Xinhua. The country will also prioritize "quality" growth instead of focusing on just the pace of growth, Xinhua said, citing an official statement.
Stateside, House Republicans voted for a second time to pass a tax plan on Wednesday, after their first vote on the bill ran into a procedural snag. The Senate had approved the bill in the early hours of Wednesday.
The bill now goes to President Donald Trump's desk to be signed into law, although the exact timing of that ceremony is unclear. Trump on Wednesday said cutting corporate taxes was "probably the biggest factor" of the legislation and that it was "above all else a jobs bill."
Among the sweeping changes included in the tax plan are provisions that would reduce the corporate tax rate from 35 percent to 21 percent and temporarily trim the tax burden on most individuals.
U.S. stocks closed little changed following the vote, having run up in the sessions leading up to the passage of the bill. The Dow Jones industrial average closed lower by 0.11 percent, or 28.10 points, at 24,726.65. The Nasdaq composite and S&P 500 finished the session with losses below 0.1 percent.
U.S. Treasury prices fell following the vote, with yields on the 10-year U.S. Treasury rising to their highest levels since March. Yields on the 10-year note stood at 2.49 percent at 3:21 p.m. HK/SIN.
Following the vote, the dollar traded lower against a basket of currencies. The dollar index was steady at 93.376 at 3:09 p.m. HK/SIN, compared to Wednesday's close of 93.351.
Against the yen, the greenback edged up to trade at 113.46 after touching its highest levels in a week in the last session.
"We're at the tail end of the tax reform rally, but if the U.S. government avoids a shutdown and President Trump signs the tax bill into law, we could get a final push before profit taking takes over," Kathy Lien, managing director for FX strategy at BK Asset Management said in a note, adding that dollar/yen could touch the 114 handle on that.
On the commodities front, oil prices were steady after climbing in the previous session. Government data released Wednesday had shown that U.S. crude inventories declined by 6.5 million barrels in the week that ended Dec. 15, an amount that was above the projected fall.
U.S. West Texas Intermediate was 0.05 percent higher at $58.07 per barrel. Brent crude shed edged up 0.02 percent to trade at $64.57.
CORPORATE NEWS
ANZ Bank New Zealand said HNA Group's application to buy its UDC Finance unit was rejected by regulators. ANZ said the agreement between the companies remained, although "unless HNA successfully overturns the decision, the sale will not proceed." ANZ shares closed lower by 0.58 percent.
Elsewhere, Fosun International announced Wednesday it would be buying most of Asahi Group Holding's stake in Tsingtao Brewery. In a statement, Fosun said it had agreed to buy 243 million H-shares, around 18 percent of Tsingtao's total issued shares, for HK$6.6 billion ($844 million). The sale price of HK$27.22 per share is at a discount to Tsingtao's Wednesday closing price of HK$40.
Following the news, Fosun International shares jumped 7.64 percent and Tsingtao's Hong Kong-listed shares fell 5.38 percent by 3:18 p.m. HK/SIN. Asahi Group closed firmer by 0.65 percent.
BBN/SS/AD