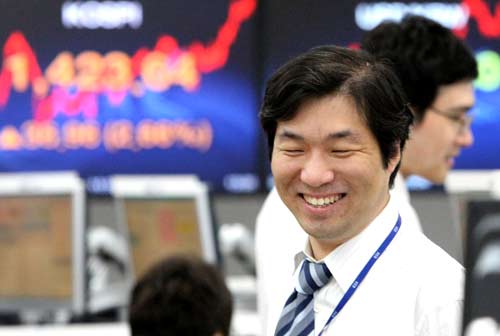 Tokyo, Japan (BBN) – Asian markets advanced on Wednesday, retracing losses made in the last session, after major U.S. indexes finished their Tuesday session higher.
Japan's Nikkei 225 jumped 3.25 percent following last session's 4.73 percent tumble, reports CNBC.com.
Automakers, technology names and financials were broadly following broad-based declines seen in the last session: Toyota rose 5.24 percent, Sony gained 4.31 percent and SoftBank Group soared 3.9 percent.
Among other blue chips, Fanuc Manufacturing rose 1.26 percent and Fast Retailing gained 2.82 percent.
Meanwhile, South Korea's Kospi advanced 0.17 percent after briefly slipping into negative territory earlier.
Heavyweight tech names, which were firmly in positive territory in the morning, traded mixed: Samsung Electronics slipped 0.51 percent while rival chipmaker SK Hynix jumped 3.85 percent.
The manufacturing and retail sectors were also mixed.
Over in Sydney, the S&P/ASX 200 bounced 1.22 percent as energy and materials stocks led gains. Among major miners, Rio Tinto and BHP tacked on 3.71 percent and 2.37 percent, respectively. Gold producers were among the worst-performers on the day, with the sector declining 1.98 percent in the morning.
Hong Kong's Hang Seng Index rose 2.68 percent, tracking the move higher stateside. Gains were seen across sectors on Wednesday, with tech giant Tencent jumping 4.73 percent in the morning. Heavily weighted financial names also recorded gains: HSBC rose 1.69 percent, China Construction Bank gained 3.85 percent and Bank of China soared 4.12 percent.
Property names also got some relief, with China Evergrande Group surging 8.2 percent in the morning. Country Garden was up 5.1 percent.
On the mainland, the Shanghai composite climbed 1.03 percent and the Shenzhen composite advanced 1.43 percent. Despite the broader gains, financials were a mixed picture early on: Shares of Bank of China listed in Shanghai were flat while Industrial and Commercial Bank of China was off by 0.53 percent.
On the earnings front, notable corporates due to report include Japan's SoftBank Group, Meiji Holdings and Subaru. Australian-British mining company Rio Tinto is expected to announced annual results after the Australian market closes.
US STOCKS RECOVER
U.S. stocks closed higher on Tuesday after broadly slumping in the last two sessions. There was no obvious single reason behind massive losses seen stateside on Monday, but the sell-offs were blamed on concerns about rising interest rates, program trading and volatility funds that use leverage.
On Tuesday, the Dow Jones industrial average closed higher by 567.02 points, or 2.33 percent, at 24,912.77 after falling as much as 567.01 points earlier in the session. Other indexes also recorded gains.
The rout in global stock markets also saw Asian and European shares sell off in the last session.
In currencies, the dollar index, which tracks the greenback against six major rivals, was mostly steady at 89.634. At 9:43 a.m. HK/SIN, the dollar edged down against the yen to trade at 109.44, a touch below Tuesday's close of 109.59.
The Australian dollar was a touch softer at $0.7899.
Meanwhile, U.S. West Texas Intermediate futures advanced 0.84 percent to trade at $63.92 per barrel after settling lower by more than 1 percent in the last session. Brent crude futures added 0.61 percent to trade at $67.27.
CORPORATE NEWS
Trade in the shares of Wynn Macau was halted on Wednesday, the Hong Kong stock exchange said in a notice. No additional information was provided. The trading halt follows earlier allegations of sexual misconduct against Wynn Resorts CEO Steve Wynn, who has denied those claims.
Shares of Commonwealth Bank of Australia slipped 0.34 percent after the bank reported on Wednesday that cash profit in the six months ending Dec. 21 shrank 1.9 percent to 4.74 million Australian dollars ($3.74 million). Also mentioned in the statement was the the A$575 million ($454 million) in expenses related to a money-laundering lawsuit incurred by the bank. Australia's other "Big Four" banks traded slightly higher on the day.
Meanwhile, Premier Investments, the largest shareholder of Myer Holdings, called for a meeting to vote on removing the retailer's board, Reuters reported. In a release, Premier Investments said it was not in the best interest of shareholders for Myer's existing board to "preside over another year of declining sales, eroding profits and further share price deterioration." Myer shares were down 0.77 percent.
WHAT'S ON TAP
Wednesday's economic calendar is fairly light on data (all times in HK/SIN):
12:00 p.m.: Malaysia trade data
4:00 p.m.: China foreign exchange reserves
The Reserve Bank of India is expected to make its interest rates decision later in the day.
BBN/SS/AD