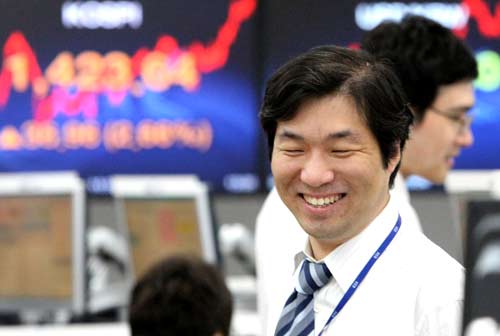 Tokyo, Japan (BBN) – Major Asian indexes were mostly higher on Tuesday after U.S. stocks closed the Monday session at record highs.
Japan's Nikkei 225 hovered around the flat line, last trading lower by 0.02 percent, reports CNBC.
Most automakers and retailers saw gains, with Mitsubishi Motor outperforming its peers in the auto sector and gaining 2.26 percent. Tech shares were mostly lower.
Other movers included several construction names involved in a probe into bid-rigging in a maglev project. Losses in Taisei Corp. steepened, with the company's shares falling 6.3 percent on reports that its offices were raided by prosecutors on Tuesday.
Kajima Corp. and Shimizu Corp. shares were down 5.42 percent and 3 percent, respectively, after the companies' offices were raided by authorities on Monday. Obayashi Corp. declined 1.38 percent.
In Seoul, the benchmark Kospi index shed 0.24 percent as blue-chip tech names rose. Samsung Electronics tacked on 1.02 percent and SK Hynix jumped 4.02 percent. South Korean steelmakers were mixed, with Posco rising 0.77 percent but Hyundai Steel edging down 0.35 percent.
Meanwhile, automakers came under slight pressure, with Hyundai Motor edging down 0.65 percent. The move lower came on the back of ongoing labor union disputes at the company's plants, as well as concerns over potential changes in the U.S.-Korea Free Trade Agreement.
The Korean government reportedly expects Washington to request reduced non-tariff barriers on US car exports to South Korea, local newspaper Korea Joong Ang Daily said.
In Sydney, the S&P/ASX 200 edged up 0.66 percent. Mining stocks buoyed the broader index following the move higher in base metals and iron ore in the last session: BHP was up 0.99 percent and Mount Gibson Iron rose 5.95 percent. Gold miners also rose, with the sub-index climbing 2.09 percent.
Greater China markets, meanwhile, trended higher. The Hang Seng Index was up a convincing 0.83 percent as gains in tech and financial stocks offset losses seen in property names. Tencent was up 2.08 percent and insurers AIA and China Life Insurance rose 2 percent and 2.49 percent, respectively.
Mainland markets also saw moderate gains, with the Shanghai Composite tacking on 0.53 percent and the Shenzhen Composite advancing 0.55 percent. Tech and financials were also among the top-performing sectors on the day.
US TAX BILL MOVES CLOSER TO LAW
Tax reform was the main driving force for optimism in markets stateside. Included in the finalized version of their tax planis a provision to cut the corporate tax rate from 35 percent to 21 percent in 2018, which would likely give corporate profits a boost.
Two holdout Republican senators on Monday confirmed that they would back the tax plan, leaving Sen. Jeff Flake, R-Ariz., the only publicly undeclared GOP senator. With Sen. John McCain fighting brain cancer, the bill will fail in the Senate if two of the remaining 51 Republicans oppose it.
The House is expected to vote on the bill on Tuesday U.S. time.
Major U.S. indexes climbed as the bill moved closer to potentially becoming legislation. The Dow Jones industrial average rose 140.46 points, or 0.57 percent, to its 70th record close this year. The index, which closed at 24,792.2 on Monday, has climbed more than 5,000 points in the year.
Despite optimism over the tax plan, the dollar edged lower against a basket of major currencies overnight. On Tuesday, the dollar index was mostly flat at 93.686 at 12:38 p.m. HK/SIN after trading above the 94 handle in the last session.
Against the yen, the dollar was steady at 112.62, near levels seen at the end of last week.
In other news, President Donald Trump on Monday unveiled his national security strategy, which referred to Russia and China as "revisionist powers." It also noted that those countries were "determined to make economies less free and less fair."
Before the release of the document, China had said on Monday that its economic relations with the U.S. were "healthy" and mutually beneficial, Reuters reported.
On the energy front, oil prices were slightly firmer as markets digested a mix of variables. That included the ongoing Forties Pipeline shutdown in the North Sea and an oil union strike in Nigeria, although Reuters reported that the strike was ended within the day.
On Tuesday, U.S. crude futures edged up by 0.23 percent to trade at $57.29 after slipping slightly in the previous session. Brent crude was 0.13 percent higher at $63.49.
CORPORATE NEWS
Chinese conglomerate HNA Group plans to sell overseas commercial properties worth some $6 billion, the Wall Street Journal reported. HNA, among some of China's most acquisitive companies in recent years, is now attempting to fundraise to pay off debt, the Journal said. Hong Kong-listed HNA Holding was flat in the morning session while the company's Shanghai-listed Hainan Airline unit was 0.64 percent higher.
Toyota on Monday announced it intends to offer an electrified version or option for all of its existing Toyota and Lexus models by around 2025. The automaker will begin selling more than 10 electric models from 2020, beginning in China before expanding to more markets. Toyota stock was up 0.56 percent.
Meanwhile, a Vietnamese unit of Thai Beverage has won an auction to acquire a 54 stake worth $4.8 billion in Sabeco, Vietnam's largest brewer, Reuters reported on Monday, citing a source.
BBN/SS/AD