Dhaka, Bangladesh (BBN)– The central bank of Bangladesh had focused on combining short-term business cycle fluctuation management with long-term sustainability agenda during the difficult years of Global Financial Crisis, former Bangladesh Bank (BB) Governor Dr. Atiur Rahman has said.
"As a result it has succeeded in channeling the money to the real economy and reaches the bottom of the pyramid. This has helped enhance domestic demand which proved to be Bangladesh's main strength of weathering fallouts of Global Financial Crisis," the former BB governor said while giving a talk on "Developmental Central Banking: The Bangladesh Story" at the Hotel Radisson Blu in Kathmandu on Tuesday.
Governor of Nepal Rastra Bank Dr. Chiranjibi Nepal chaired the session. Senior officials of Nepal Rastra Bank attended the programme, organized by the central bank of Nepal, according to a message.
Dr. Rahman pointed out that during the last seven or eight years, Bangladesh Bank aimed to improve monetary transmission channels, to promote management of macro-financial stability risks through broad based inclusion, and to induce directional bias towards more productive and sustainable activities.
"We focused on experimentation and implementation, while being mindful of what monetary policy can and cannot do," Dr. Rahman explained.
He also said the BB's inclusive financing thrusts have been on output initiatives in- agriculture, MSME, and green financing.
It also emphasized heavily on institutional changes to induce banks to move closer to the rural people, encourage partnership between conventional and non-conventional players, promote digitization of the services etc, he added.
"We made bold experimental moves and are now witnessing the early rewarding outcomes."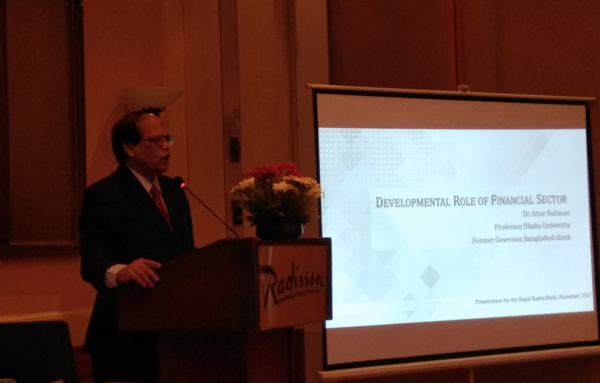 He pointed out that Bangladesh as an economy has commendable growth prospect, inflation has been kept under control for over a decade, exchange rate of Bangladeshi Taka has remained relatively stable, increase in forex reserve has been exemplary, remittance influx has become core strength, poverty and extreme poverty has been reduced dramatically.
"All these have been possible because of macro-prudential role played by Bangladesh Bank with potent support from the government," the former governor noted.
However, he cautioned that this new paradigm shift in central banking needs prudent nurturing and continued motivational drive from the top regulators.
"The autonomy and credibility of the central bank must not be compromised by any of the vested quarters so that these early gains of financial inclusion are not derailed."
As the chair Governor Dr. Chiranjibi Nepal fondly recollected the leadership role of former Governor Dr. Rahman for the South Asian central banks.
He acknowledged that Nepal Rastra Bank borrowed many of the innovative ideas of Governor Rahman while formulating Financial Inclusion policies for the Nepalese central bank.
He praised Dr. Rahman for undertaking a huge number of innovative macro-prudential regulations and creative monetary policies for digitizing and modernizing Bangladesh Bank providing many insights on financial inclusion and stability for replication in the developing economies.
BBN/SSR/AD