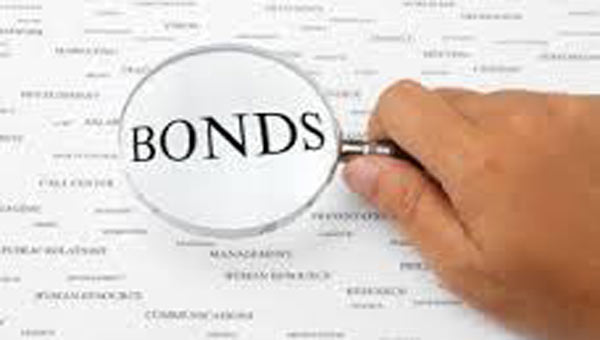 Dhaka, Bangladesh (BBN)– The interest rates on the Bangladesh government securities marked a significant rise this week as commercial banks were not interested to buy the instruments ahead of the Eid.
The yield, generally known as interest rate, of both Bangladesh Government Treasury Bonds (BGTB) and treasury bills (T-bills) showing the upward trend following resumption of auctions after a month suspension, according to officials.
The government borrowed BDT 35 billion through issuing 91-Day T-bills, 182- Day T-bills and 02-Year BGTB this week as per action calendar.
A total of BDT 170 billion will be borrowed from the market in June while net borrowing will stand at BDT 135 billion after making payments against maturity of the T-bills and bonds, they added.
The officials also said the government is set to borrow the money from the country's banking system during the period under review to finance its budget deficit partly.
"The interest rates on the government securities are increasing due to the upcoming Eid-ul-Fitr festival and June closing," a senior official of the Bangladesh Bank (BB) told the BBN in Dhaka.
He also said the central bank is watching the overall market closely to avoid any unwanted situation before the Eid. "We may use our monetary instruments to keep money market stable if necessary."
The government borrowed BDT 10 billion through issuing the 02-year BGTB at an auction held at the central bank headquarters in Dhaka on Tuesday, according to the auction calendar.
The interest rate on the 02-year BGTB rose to 5.05 per cent on Tuesday from 4.44 per cent of the previous auction held on March 01 last, according to auction results.
Talking to the BBN, a senior treasury official of a leading private commercial bank said most of the commercial banks are not interested to invest their excess funds in the longer tenor government securities to avert any possible liquidity pressure before the upcoming Eid-ul-Fitr festival.
He also said the cash withdrawal pressure from the banks normally increases before the Eid to meet the growing demand for money.
The private banker sees that the yield on both BGTB and T-bills will increase by the end of this month.
On the other hand, the interest rate on 91-day T-bills rose to 3.38 per cent on June 04 from 2.87 per cent of the previous auction held on April 30 last while the yield on 182 -day T-bills reached at 4.25 per cent from 3.14 per cent of the previous auction.
Currently, three T-bills are being transacted through auctions to adjust government borrowings from the banking system. The T-bills have 91-day, 182-day and 364-day maturity periods.
Furthermore, five government bonds with tenures of 02, 05, 10, 15 and 20 years respectively are traded on the money market.
BBN/SSR/AD