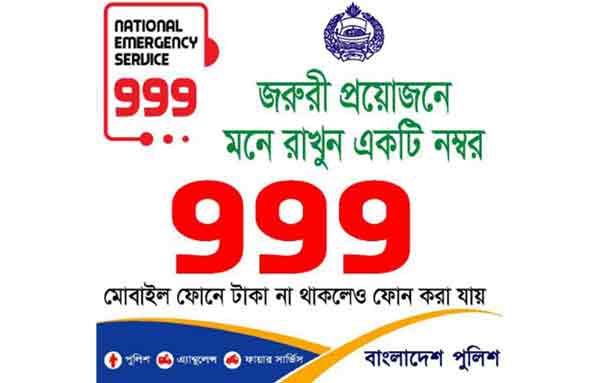 Dhaka, Bangladesh (BBN) – Bangladesh officially launched the 999 emergency helpline on Tuesday to get help from police, fire service and ambulance.
The helpline was launched after a year of experiment.
Bangladesh Prime Minister's Adviser on ICT Affairs Sajeeb Wazed inaugurated the new emergency helpline service in Dhaka.
Sajeeb Wazed, the only son of Prime Minister Sheikh Hasina, inspected the call center after unveiling the National Emergency Services 999 Centre at the Metropolitan Police Crime Command and Control Centre in capital Dhaka.
The toll-free service will be open round the clock, Inspector General of Police (IGP) AKM Shahidul Hoque said while briefing journalists during the inaugural function.
The service can be availed even at zero-balance. The call centre, at Abdul Gani Road, is currently equipped with staff capable to handle 120 calls at a time.
Police, fire service and ambulance services will be reportedly available from any phone (mobile or fixed line) dialling the number.
The entire service will be supervised by Bangladesh Police and the 999 number will be completely free from toll.
Bangladesh's ICT Division in October last year launched the experimental phase of the National Emergency Service when it handled some 3.3 million calls.
BBN/MMI/ANS