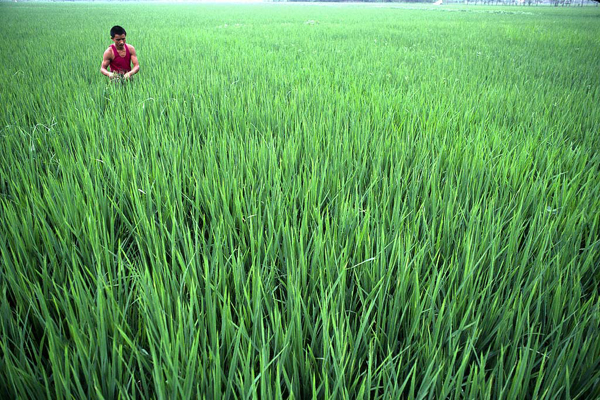 Dhaka, Bangladesh (BBN)– The central bank of Bangladesh has set an agriculture credit target of BDT 241.24 billion for the banks to disburse during the current fiscal year (FY) of 2020.
The amount has been estimated to be 10.66 per cent higher than that of the last fiscal year's target, officials said.
Bangladesh Bank (BB), the country's central bank, unveiled the agriculture and rural credit policy and programme for the FY'20 at a press conference at its headquarters in the capital Dhaka on Tuesday.
Of the target, eight state-owned banks have been asked to disburse BDT 103.75 billion in the current fiscal while the targets for private commercial banks (PCBs) and foreign commercial banks (FCBs) are BDT 137.49 billion combined.
Meanwhile, the disbursement of farm credit exceeded the target in the last fiscal year.
All the banks have achieved 108.33 per cent of their total annual agriculture loan disbursement target of BDT 218 billion for the FY '19.
The disbursement of farm credit grew by more than 10 per cent to BDT 236.16 billion in the FY '19 from BDT 213.93 billion a year earlier, the BB data showed.
Credit for cashew nut cultivation, rambutan and potato cultivation in double-bed system has also been added to the new policy to ensure the food security of the people while developing a sustainable agricultural credit system, they added.
The central bank asked the banks to increase credit disbursement through their own network and agent banking channels and decrease the disbursement using microfinance institutions (MFIs) gradually.
"We've announced the policy to achieve the prime objectives of sustainable development goals (SDGs), including eradication of poverty, ensuring safe and nutritious food and maintaining good health for the people of the country," BB deputy governor SM Moniruzzaman said while announcing the policy.
Among others, Ashok Kumar Dey, BB executive director and Habibur Rahman, general manager of the agriculture credit department of the central bank, spoke on the occasion.
BBN/SSR/AD