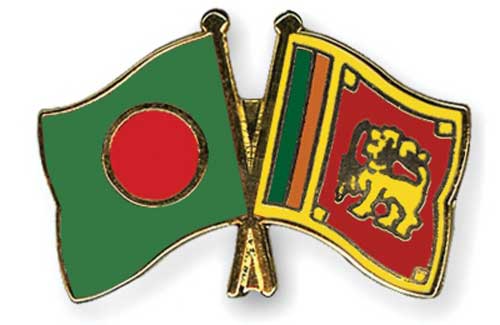 Dhaka, Bangladesh (BBN) – Bangladesh and Sri Lanka signed one agreement and 13 memorandums of understanding (MoU) on Friday aiming to boost bilateral relations between the two countries.
The instruments were signed following bilateral meeting between the two countries in presence of Sri Lankan President Maithripala Sirisena and Prime Minister Sheikh Hasina at Prime Minister's Office (PMO) in the capital Dhaka.
Under the instruments, cooperation between the two countries is expected to strengthen in the areas of economy, agriculture, shipping, higher education, information and technology and media.
Meanwhile, Bangladesh and Sri Lanka agreed to sign Free Trade Agreement (FTA) between the two countries within this year to boost trade cooperation between the two countries.
Foreign Secretary M Shahidul Haque said this while briefing reporters after the official talks.
President Sirisena arrived in Dhaka on Thursday on a three-day state visit, highlighting the growing ties between Dhaka and Colombo.
Home Minister of Bangladesh Asaduzzaman Khan and Sri Lankan Foreign Minister Ravi Karunanayake signed the agreement on VISA waiver for diplomatic and official passport holders of the two countries.
The deals are- MoU on Cooperation in Agriculture, MoU between Ceylon Shipping Corporation (CSC) and Bangladesh Shipping Corporation (BSC), MoU between Bangladesh Institute of International and Strategic Studies (BIISS) and Lakshman Kadiragama Institute of International Relations and Strategic Studies (LKIIRSS) on cooperation in the field of international and strategic studies, MoU between University Grant Commissions of the two countries on Cooperation and Collaboration in the field of higher education, MoU between Bangladesh Foreign Service Academy (FSA) and Bandaranaike Diplomatic Training Institute (BIDTI), MoU between Central Bank of Sri Lanka and Bangladesh Bank for cooperation in financial sector/services, MoU between Bangladesh Investment Development Authority (BIDA) and Board of Investment of Sri Lanka for cooperation on investment matters, MoU between Bangladesh Standards and Testing Institution (BSTI) and Sri Lanka Standards Institution (SLSI),MoU on cooperation in the fields of Information and Communication Technology, MoU on Information and Broadcasting between Bangladesh Sangbad Sangstha (BSS) and Sri Lankan National News Agency Lankapuvath Ltd., MoU on cooperation in the fields of radio, film and television between Bangladesh and Sri Lanka, MoU on collaboration between Chittagong BGMEA Institute of Fashion and Technology (CBIFT) and Sri Lanka Institute for Apparel and Textiles (SLITA) and MoU on Economic Cooperation between Bangladesh and Sri Lanka.
Minister of Foreign Affairs of Sri Lanka Ravi Karunanayeke, State Minister of Agriculture Wasantha Aluwihare, Deputy Minister of ports and shipping affairs Nishantha Muthuhettigama, State Minister of Higher Education and Highways Mohan Lal Grero, Deputy Minister of Finance and Mass Media Lasantha Alagiyawanna and Sri Lankan High Commissioner to Bangladesh Ms Yasoja Gunasekera signed the documents on behalf of the Sri Lanka.
Industries Minister Amir Hossain Amu, Commerce Minister Tofael Ahmed, Agriculture Minister Matia Chowdhury, Foreign Minister AH Mahmood Ali, Shipping Minister Shajahan Khan, Information Minister Hasanul Haq Inu, Home Minister Asaduzzaman Khan,State Minister for ICT Zunaid Ahmed Palak, UGC Chairman Professor Abdul Mannan, Executive Chairman of BIDA Kazi Aminul Islam, and BGMEA President Siddiqur Rahman inked the instruments for Bangladesh side.
BBN/SSR/AD