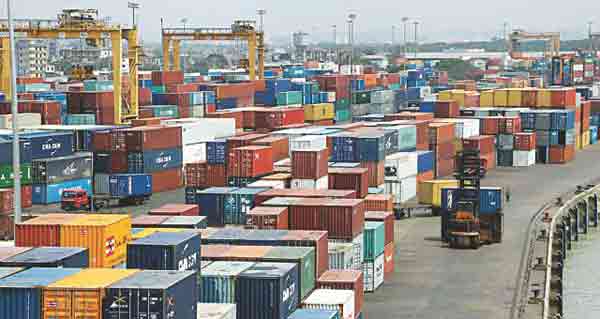 Dhaka, Bangladesh (BBN)– Bangladesh's overall import fell by 6.42 per cent in April from its previous month as importers slowed down placing fresh import orders ahead of the national budget for the fiscal year 2017-18.
Officials said a substantial quantity of essential items, including foods, was imported in the months of February and March ahead of the holy Ramadan, pushing up the import expenditure.
The actual import in terms of settlement of letters of credit (LCs) decreased by 6.42 per cent to US$ 3.55 billion in April from $3.79 billion in March, according to the central bank's latest statistics. It was $3.02 billion in April 2016.
On the other hand, opening of LCs, generally known as import orders, dropped by 9.29 per cent to $4.02 billion during the month from $4.43 billion a month ago. It was $3.27 billion in April 2016.
The trend may also continue in the month of May, they hinted.
In March 2017, the actual import jumped by over 15 per cent to $3.79 billion from $3.29 billion in February while the import orders rose by 17.36 per cent to $4.43 billion from $3.77 billion, according to the BB data.
Talking to BBN a senior official of the Bangladesh Bank (BB) said the imports fell in April as most of the importers preferred waiting until the announcement of the upcoming national budget, which might offer some changes in tax structure.
He also said a large quantity of essential commodities has already imported to meet the additional demand of consumers during the month of Ramadan.
On the other hand, a senior official of a leading private commercial bank said the existing import trend might continue until June this year.
"The imports may pick up again in July if the government announces incentives for the businessmen in the next budget," the senior banker explained.
In April, the import of rice came down to $7.27 million from $9.0 million a month before while wheat import fell to $48.35 million from $98.97 million.
Similarly, sugar import dropped to $42.81 million in April 2017 from $74.50 million in March last while dry fruits import came down to $4.77 million from $5.52 million.
On the other hand, the import of pulses rose to $77.77 million in March from $48.29 million a month ago while onion import stood at $13.16 million from $12.87 million.
However, import of capital machinery and scrap vessels increased during the period under review, following implementation of different ongoing infrastructure development projects across the country.
Currently, the government is implementing nine projects under the Fast Track Project Monitoring Committee, headed by Prime Minister Sheikh Hasina.
The import of capital machinery or industrial equipments used for production rose to $293.34 million in April from $243.53 million a month before while scrap vessels import stood at $92.63 million against $47.18 million.
The import of petroleum products also fell to $245.95 million in April from $304.34 million a month ago.
BBN/SSR/AD