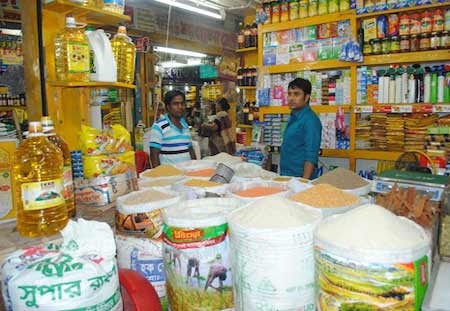 Dhaka, Bangladesh (BBN)– Bangladesh's inflation as measured by the consumers' price index (CPI) eased 13 basis points to 5.49 per cent in August mainly due to downward trend of both food and non-food prices.
Food inflation came down to 5.27 per cent in August on point-to-point basis from 5.42 per cent the previous month while non-food inflation stood at 5.82 per cent from 5.94 per cent, according to official data.
Planning Minister MA Mannan released the monthly consumer price index report of the Bangladesh Bureau of Statistics at National Economic Council in Dhaka on Tuesday.
The inflation decreased a little bit in the last month due to decline of some food and non-food items, according to the minister.
According to the BBS data, the inflation both in rural and urban areas also declined in the month of August, 2019.
In rural areas inflation dropped to 5.34 per cent from 5.48 percent in July. Food and non-food inflation declined to 5.38 per cent and 5.25 per cent from 5.60 per cent and 5.27 per cent respectively in July.
Inflation also fell in urban areas, to 5.75 per cent from 5.88 per cent. Food and non-food inflation were down to 5.02 per cent and 6.60 per cent in August from 5.03 per cent and 6.84 per cent respectively a month ago.
The government has already targeted 5.5 per cent inflation on annual average basis for the current fiscal year. It was 5.48 per cent in the fiscal year (FY) 2018-19.
BBN/SSR/AD