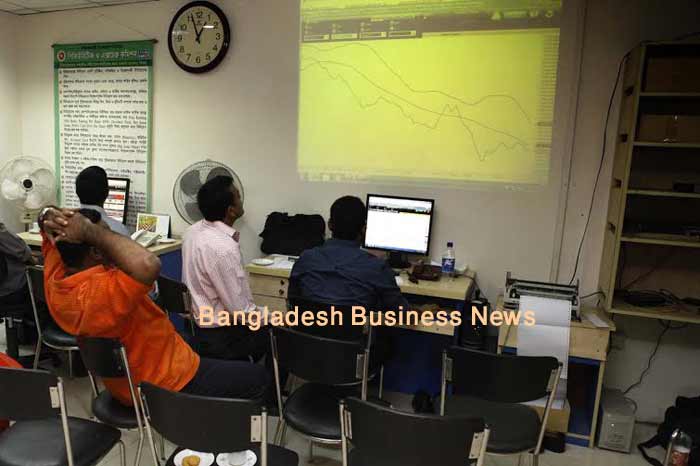 Dhaka, Bangladesh (BBN) – Bangladesh's stocks finished lower on Sunday, breaking a three-day winning streak, as cautious investors opted to book profit on sector specific stocks.
Analysts said stocks fell marginally as investors booked profit, particularly December year-ending stocks like bank and non-bank financial institutions stocks.
The market opened on negative note and the downward trend continued till end of the session amid modest volatility.
Finally, DSEX ended more than 24 points lower while CSE All Share Price Index fell 85 points at closing.
DHAKA STOCK EXCHANGE
DSEX, the prime index of the Dhaka Stock Exchange (DSE), settled at 5,549, shedding 24.46 points or 0.43 percent over the previous session.
Two other indices also ended lower. The DS30 index, comprising blue chips, fell 11.13 points to finish at 1,947 and the DSE Shariah Index lost 2.57 points to close at 1,276.
Turnover, the most important indicator of the market, however, stood at BDT 9.0 billion, which was 10 percent higher than the previous session's BDT 8.17 billion.
A total number of 162,972 trades were executed in the day's trading session with trading volume of 209.44 million securities.
The market capitalisation of the DSE came down to BDT 3,956 billion on the day which was BDT 3,963 billion in the previous session.
Of the 334 issues traded, 197 declined, 91 advanced and 46 issues remained unchanged on the DSE trading floor.
Active Fine Chemicals dominated the turnover chart with shares worth BDT 716 million changing hands, followed by Khulna Power Company, Saiham Textile, Dragon Sweater and United Power.
Aziz Pipes was the day's best performer, posting a gain of 9.99 percent while United Power was the worst loser, losing 12.21 percent following its price adjustment after record date.
CHITTAGONG STOCK EXCHANGE
The port city bourse Chittagong Stock Exchange (CSE) finished lower with its CSE All Share Price Index – CASPI – losing 85 points to settle at 17,117 and the Selective Categories Index – CSCX – shedding 53 points to finish at 10,373.
The losers beat gainers as 146 issues closed lower, 68 ended higher and 22 issues remained unchanged on the CSE.
The port city bourse traded 17.18 million shares and mutual fund units worth more than BDT 620 million in turnover.
BBN/SS/ANS