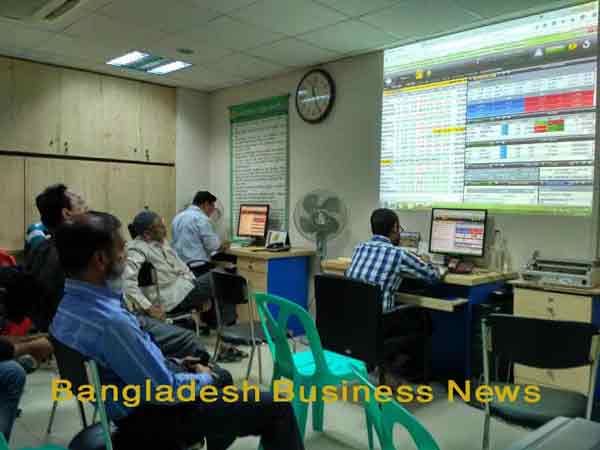 Dhaka, Bangladesh (BBN) – Bangladesh's stocks gained further on Monday following different moves are to be taken shortly to revamping the country's ailing capital market.
The broad index, DSEX closed at 4434.24 points on the day with a gain of 52.17 points or 1.19 per cent.
Besides, two selective indices, Blue Chip index, DSE30 and Shariah index, DSES also went up by 27.63 points and 17.36 points to settle at 1514.88 points and 1014.95 points respectively.
Of 354 issues traded, 149 advanced, 161 declined and 44 remained unchanged.
Of the major sectors, the telecommunication sector witnessed the highest price appreciation mainly riding on the Grameenphone.
Of the large-cap companies, the shares of Grameenphone and Square Pharmaceuticals rose 5.96 per cent and 1.14 per cent respectively.
On the other hand, the share prices of British American Tobacco Bangladesh Company (BATBC), BRAC Bank and Renata declined by 0.06 per cent, 0.58 per cent and 0.33 per cent respectively.
Among the multinational companies, the share prices of GlaxoSmithKline (GSK) Bangladesh, Heidelberg Cement Bangladesh, Bata Shoe Company Bangladesh, LafargeHolcim Bangladesh, Reckitt Benckiser (BD) and Singer Bangladesh advanced marginally.
On the other hand, the share prices of Linde Bangladesh and Berger Paints Bangladesh declined marginally.
Investors' participation was mostly concentrated on engineering sector which grabbed 16.01 per cent of the market turnover followed by pharmaceuticals & chemicals 16.0 per cent, bank 11.20 per and textile 8.4 per cent.
Of top turnover leaders, Grameenphone featured a turnover of BDT 244 million followed by S. S. Steel BDT 238 million, LafargeHolcim Bangladesh BDT 235 million, Square Pharmaceuticals BDT 234 million, and BRAC Bank BDT 122 million.
Gemini Sea Food was the number one gainer with a rise of 10 per cent to close at BDT 163 each.
S. S. Steel became the worst loser for the second consecutive session after losing 9.46 per cent to close at BDT 13.40 each on Monday.
The company's share price declined 39.36 per cent or BDT 8.70 in last seven trading sessions.
On the other hand, the Chittagong Stock Exchange (CSE)'s benchmark index CASPI advanced 1.51 per cent or 201.76 points to close at 13479.63 points.
Of 253 issues traded, 132 advanced, 96 declined and 25 were unchanged and turnover stood at BDT 739.78 million on the port city bourse CSE.
BBN/SSR/AD