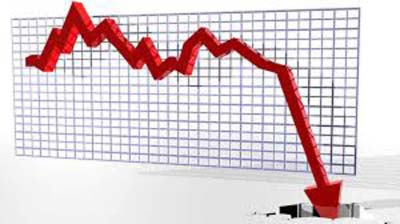 Dhaka, Bangladesh (BBN)– Bangladesh's stocks extended the losing streak for the fourth straight session on Tuesday as panic-driven investors continued their selling binge amid growing concern over the country's economic situation.
DSEX, the prime index of the Dhaka Stock Exchange, settled at 4,506, shedding 26.81 points or 0.59 per cent. DSEX has lost a cumulative 196 points in four sessions.
Institutional investors are not playing a supportive role while foreign investors have continued pulling funds out of the market in recent months, according to market insiders.
The foreign investors withdrew record BDT 857 billion in last nine months (March-November) this year from the country's premier bourse due mainly to lack of confidence, they explained.
A merchant banker said continuous fall in the private sector credit growth, declining export earnings, poor tax revenue collection and heavy government bank borrowing reflected a gloomy state of the country's economy.
He noted that ongoing erosion in stock prices reduced investment ability of the market intermediaries and high net worth investors.
Two other indices also kept losing with the DS30 index, comprising blue chips, lost 13.13 points to finish at 1,548 and the DSE Shariah Index fell 9.97 points to close at 1,012.
Turnover, a crucial indicator of the market, however, rose to BDT 3.05 billion, an 11 per cent increase over the previous day.
The key index posted a sharp correction of 196 points in the last four sessions as the shaky investors 'liquidated' stocks from most of the sectors.
Among the major sectors, food witnessed the highest loss of 1.44 per cent, followed by engineering 1.33 per cent, telecom 1.18 per cent, pharma 0.83 per cent, power 0.36 per cent and financial institutions 0.29 per cent.
Only banking sector posted 0.14 per cent gain.
Losers took a strong lead over the gainers as out of 353 issues traded, 203 closed lower, 96 ended higher and 54 remained unchanged on the DSE trading floor.
A total number of 102,216 trades were executed in the day's trading session with trading volume of 109.99 million shares and mutual fund units.
The market-cap of the DSE also dropped to BDT 3,428 billion on Tuesday, from BDT 3,446 billion in the previous session.
Square Pharma topped the turnover chart for the second straight day with shares worth BDT 125 million changing hands, closely followed by Saiham Cotton Mills, Sonar Bangla Insurance, Sinobangla Industries and Daffodil Computers.
Miracle Industries was the day's best performer, posting a gain of 7.80 per cent while Sonar Bangla Insurance was the worst loser, losing 8.72 per cent.
On the other hand, the Chittagong Stock Exchange also ended lower with its All Shares Price Index (CASPI)-losing 145 points to close at 13,683 and the Selective Categories Index – CSCX -shedding 89 points to finish at 8,301.
The losers beat gainers, as 143 issues closed lower, 60 ended higher and 36 remained unchanged on the CSE.
BBN/SSR/AD