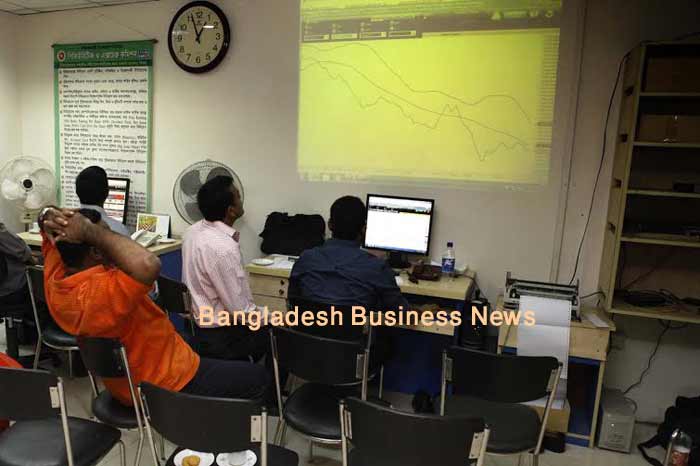 Dhaka, Bangladesh (BBN) – Bangladesh's stocks witnessed a sharp decline on Thursday, with prime index of Dhaka Stock Exchange (DSE) dipping to one year lowest level, amid persistent selling spree for the 12 sessions.
Analysts said investors' confidence remains low to the market as prevailing gloomy market trend coupled with dissatisfactory earnings results of banks taking a toll on the market.
The market started the day on downward movement which continued till end of the session with no sign of reversal.
Finally the core index of the major bourse eroded more than 68 points while CSE All Share Price Index fell 214 points at closing.
DHAKA STOCK EXCHANGE:
DSEX, the benchmark index of the DSE, went down by 68.45 points or 1.24 percent to settle at nearly one year low at 5,443. It was the lowest level of DSEX since June 1, 2017.
The two other indices of the premier bourse also saw sharp fall. The DS30 index, comprising blue chips, fell 30 points to finish at 2,025 and DSES (Shariah) index plunged 13 points to settle at 1,277.
However, turnover increased as the total turnover on the major bourse amounted to BDT 4.92 billion, 24 percent higher than the previous day's turnover of BDT 3.95 billion.
The losers took a strong lead over the gainers as out of 336 issues traded, 254 closed lower, 44 ended higher and 38 issues remained unchanged on the DSE trading floor.
Intraco Refuelling Station, which made its share trading debut Thursday, topped the DSE turnover chart with shares worth BDT 443 million changing hands, closely followed by Bangladesh Steel Re-rolling Mills, Western Marine Shipyard, United Power and Beximco.
Queen South Textile was the day's highest gainer, posting a gain of 9.80 percent while Prime Life Insurance was the day's worst loser, losing 6.36 percent.
CHITTAGONG STOCK EXCHANGE:
The port city's bourse Chittagong Stock Exchange (CSE) also saw sharp declined with the CSE All Share Price Index – CASPI – slumping 214 points to settle at 16,804 points and Selective Categories Index – CSCX – losing 128 points to finish at 10,159.
Here too, the losers beat the gainers as 179 issues closed lower, 26 ended higher and 20 remained unchanged on the CSE.
The port city bourse traded 12.02 million shares and mutual fund units worth more than BDT 514 million in turnover.
BBN/SS/ANS