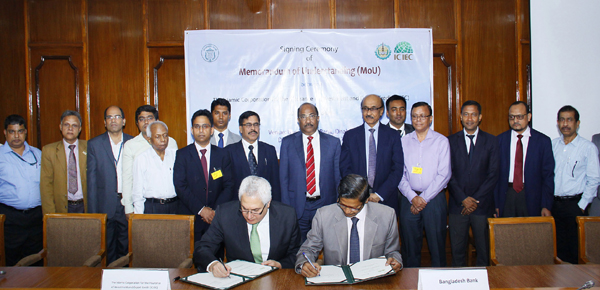 Dhaka, Bangladesh (BBN)– Bangladesh Bank (BB) has signed a deal with the Islamic Corporation for the Insurance of Investment and Export Credit (ICIEC) aiming to exchange of information between the two entities.
The memorandum of understanding (MoU) was signed by Ahmed Jamal, Executive Director of the BB and Oussama A. Kaissi, Chief Executive Officer (CEO) of the ICIEC on behalf of their respective organizations.
Commenting on the MoU, BB's Governor, Fazle Kabir said the MoU will take the relationship between two entities to a new standard that will ensure benefits for both parties.
Oussama A. Kaissi said: "The signing of this MoU comes within the framework of ICIEC's mandate to support the development of its member countries by providing export credit and political risk insurance for investment projects".
Deputy Governors of BB SK Sur Chowdhury and SM Moniruzzaman also spoke on the occasion, according to a BB statement.
The MoU signing ceremony was arranged by the Foreign Exchange Policy Department (FEPD) of BB and took place at the BB' headquarters in Dhaka.
Senior BB officials and high officials from ICIEC, Islamic Development Bank Group (IDBG), Ministry of Finance (MoF) and Bangladesh Investment Development Authority (BIDA) also attended in the programme.
BBN/SSR/AD