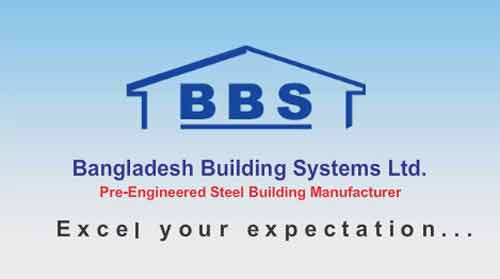 Dhaka, Bangladesh (BBN)– BBS Cables, a unit of Bangladesh Building Systems, on Monday made a flying debut on both bourses — Dhaka Stock Exchange (DSE) and Chittagong Stock Exchange (CSE).
The stock closed at BDT 90.30 each, registering an increase of 803 percent on its offer price of BDT 10 in the prime bourse.
Each share of the company traded between BDT 51 and BDT 94 on the DSE. A total of 8.97 million shares changed hands in DSE.
In the port city bourse – CSE, each share of the of the electric wires manufacturer traded between BDT 66 and BDT 91.10 and closed at BDT 88.40, soaring 784 percent from its issue price of BDT 10.
A total of 2.04 million shares changed hands in CSE.
The company was also the most traded stock at the DSE and second highest turnover leader at the CSE with shares worth BDT 746 million and BDT 168.58 million changing hands respectively.
Dealers said the investors showed higher enthusiasm surrounding debutant BBS Cables amid short-term speculation. So, it created hype among the investors on the first day of trading.
BBS Cables, which received regulatory approval from the securities regulator on April 13, this year floated 20 million ordinary shares and raised BDT 200 million from the public using the fixed price method.
The company will use the IPO proceeds for acquisition of plant & machineries, building & other civil works, partial repayment of bank loans and meeting IPO expenses.
The company's post-IPO basic earnings per share (EPS) stood at BDT 1.95 for 9 (nine) months period ended on 31 March, 2017 (July, 2016- March, 2017) and net asset value (NAV) per share stood at BDT 17.67 as on 31 March, 2017.
The stock brokers, merchant bankers and portfolio managers are requested to abstain from providing loan facilities to purchase securities of BBS Cables in between 1st to 30th trading day, starting from Monday as per BSEC directive.
Banco Finance & Investment and ICB Capital Management are jointly working as issue managers of the IPO.
The company's paid-up capital is BDT 1.20 billion and authorised capital is BDT 3.0 billion, while the total number of securities is 120 million.
Sponsor-directors own 33.33 percent stake in the company, while institutional investors own 8.31 percent, foreign investors 0.02 percent and the general public 58.34 percent as on June 30, 2016, the DSE data shows.
Located at Sreepur in Gazipur, BBS Cables is equipped with state-of-the-art technology to manufacture and test all types of quality cables, wires and conductors, according to the company's website.
BBS Cables is a unit of Bangladesh Building Systems. Bangladesh Building Systems was listed with the capital market since October 2013.
Another unit of the Bangladesh Building Systems – Nahee Aluminum Composite Panel also got regulatory approval for initial public offering (IPO) on Thursday last which will raise a capital worth BDT 150 million under fixed price method, by floating 15 million ordinary shares.
BBN/SSR/SR