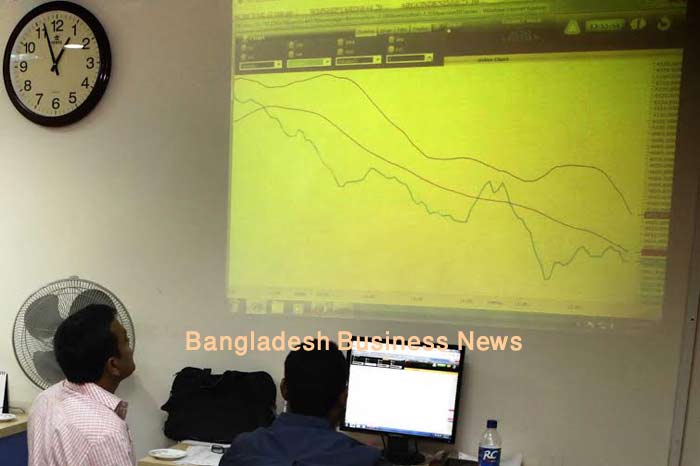 Dhaka, Bangladesh (BBN)– With fears of coronavirus dominating market sentiment, Bangladesh's stocks tumbled further on Sunday amid incessant selling by investors to escape further losses.
Within 15 minutes, DSEX slumped more than 200 points with dipping below 4,000-mark on the news of imposing travel bans on different countries and Bangladesh suspending on-arrival visas on European nations for two weeks.
At the end of the session, DSEX, the prime index of the Dhaka Stock Exchange (DSE), settle at 3,969, shedding 160.64 points or 3.88 per cent over the previous day.
DSEX sank the below 4,000-mark for the first time in five years since May 2015.
Two other indices also saw steep fall. The DS30 index, comprising blue chips, fell 48.31 points to close at 1,333 and the DSE Shariah Index lost 31.37 points to finish at 926.
Market operators said investors dumped their holdings amid growing concern over the impacts of coronavirus outbreak as more two cases of COVID-19 confirmed in Bangladesh.
They said the frightened investors lost trust in the market due to coronavirus outbreak which caused further disruptions for companies and the global economy.
Two more persons were diagnosed with COVID-19 in Bangladesh on Saturday, hours after the authorities announced that the first three cases had tested negative.
Several countries, including Kingdom of Saudi Arabia, Kuwait and Qatar, suspended air communications with Bangladesh and other countries to fight the virus, which has spread to 135 countries and territories, leaving 5,764 people dead.
The new virus continued spreading outside Chain and could not be controlled that disrupted global supply chain, export and import activities.
Turnover, an important indicator of the market, dropped to BDT 3.73 billion on the country's premier bourse, falling further by 9.0 per cent over the previous day's turnover of BDT 4.09 billion.
Prices of more than 95 per cent traded issues decline as out of 355 issues traded, 338 closed lower, 10 ended higher and seven remained unchanged on the DSE trading floor.
A total number of 126,849 trades were executed in the day's trading session with trading volume of 169.19 million shares and mutual fund units.
The Chittagong Stock Exchange also plunged with its All Shares Price Index (CASPI)—losing 489 points to close at 12,153 and the Selective Categories Index – CSCX –slumping 293 points to finish at 7,367.
Here too, the losers beat gainers, as 234 issues closed lower, 12 ended higher and four remained unchanged on the CSE.
The port city bourse traded 9.75 million shares and mutual fund units worth more than BDT 247 million in turnover.
BBN/SSR/AD