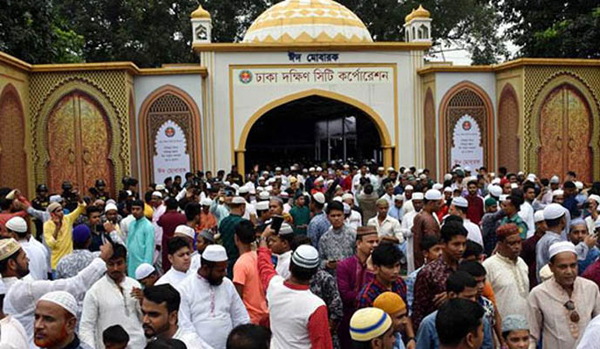 Dhaka, Bangladesh (BBN) – Eid-ul-Fitr, the biggest religious festival of the Muslims, is being celebrated amid feasting, family reunions and boisterous festivities across the country on Saturday.
The day's programs began with offering Eid prayers by millions of Muslims at mosques and eidgahs throughout Bangladesh.
The main Eid-ul-Fitr congregation was held at the Jatiya Eidgah in the capital at 8:30am (local time).
President Abdul Hamid offered Eid-ul-Fitr prayers along with hundreds of people from all walks of life at the National Eidgah in the capital Dhaka.
Cabinet members, Judges of the Supreme Court, members of Parliament, senior political leaders and high civil and military officials also offered prayers at the main Eid congregation.
Senior Pesh Imam of the National Mosque Baitul Mukarram Hafez Maulna Muhammad Mizanur Rahman conducted the main Eid jamaat.
The biggest Eid congregation of the country on Sholakia Eidgah Maidan in Kishoreganj is scheduled for 10:00 this morning.
The Eid celebrations come a month-long dawn-to-dusk fasting.
Before offering the Eid prayers, they gave out charity known as 'Fitra'. Along with that some people who earn above the certain limit are entitled they gave give 2.5 percent of their income to the needy, which is known as 'Zakat' and is obligatory.
The national flag was hoisted atop government and non-government office buildings.
Important traffic islands and light posts in Dhaka city have also been decorated with miniature national flags and flags inscribed with "Eid Mubarak".
Television channels and radio stations are telecasting special programmes.
Special diet are being served in hospitals, jails, government child families, Chotomoni Nibash, centres for persons with disabilities, shelter homes, orphanages, Vagrant Welfare and Destitute Welfare centres.
The government already declared a three-day public holiday that began on Friday.
Meanwhile, President Abdul Hamid, Prime Minister Sheikh Hasina and BNP Chairperson Khaleda Zia have issued separate messages greeting people on the occasion.
BBN/SSR/AD