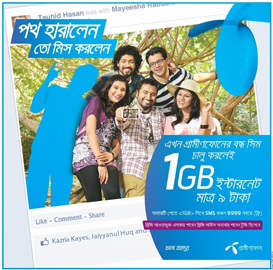 Bangladesh, Dhaka (BBN) – Bangladesh Business News prepares Thursday's evening business round up compiling reports, published by different newspapers and news portals.
GP's profit increases despite declining revenue in 2020
Grameenphone Ltd reported total revenues of BDT 139.6 billion for the year of 2020, registering a 2.8% annual decline. The company acquired 2.6 mn new subscribers during the year, having grown 3.4% from the end of the previous year. Total subscribers at the end of 2020 stood at 79.0 mn, of which 41.3 mn, or 52.2%, are using internet services.
Bangladesh's stocks edge higher as regulator relaxes margin loans directive
Bangladesh's stocks finished marginally higher for the two consecutive sessions on Thursday as the stock market regulator relaxed its directive on margin loans for more four months. The Bangladesh Securities and Exchange Commission (BSEC) on Wednesday relaxed its directive on margin loans, allowing the stock lenders to adjust interest rate at 12 per cent until June 30, 2021. It was supposed to be adjusted within February 1.
Widespread vaccinations in Bangladesh not before 2023: EIU
Covid-19 vaccination programmes in Bangladesh and many other developing countries will not have widespread access to vaccines before 2023 due to the poor infrastructure, fewer healthcare workers, and inadequate refrigeration, a study said.
Asia-Pacific stocks fall; Cathay Pacific shares in Hong Kong drop nearly 10%
Shares in Asia-Pacific fell on Thursday following an overnight plunge on Wall Street that wiped out the S&P 500′s 2021 gains and left it in negative territory for the year. Mainland Chinese stocks dropped on the day, with the Shanghai composite down 1.91% to 3,505.18 while the Shenzhen component declined 3.248% to about 14,913.21.
Oil slips on tightening Covid-19 curbs, especially in China
Oil prices slid in early trade on Thursday on fresh worries about weakened fuel demand, after England clamped down on travel and China, the world's second-largest oil consumer, also sought to limit Lunar New Year trips to stem a surge in Covid-19 cases. U.S. West Texas Intermediate (WTI) crude futures fell 12 cents, or 0.1%, to $52.72 a barrel at 0228 GMT, erasing some of Wednesday's gain.
Crude Oil, Gold Prices at the Mercy of Risk Trends Ahead of US GDP Data
Despite aggressive risk aversion on Wall Street, sending the S&P 500 to its worst single-day performance in about 3 months, growth-linked crude oil prices were able to get by relatively unscathed. Gold, on the other hand, fared worse off compared to WTI, but not quite to the same extent as equities. Copper futures meanwhile slid 1.71%.
BBN/SS/AN