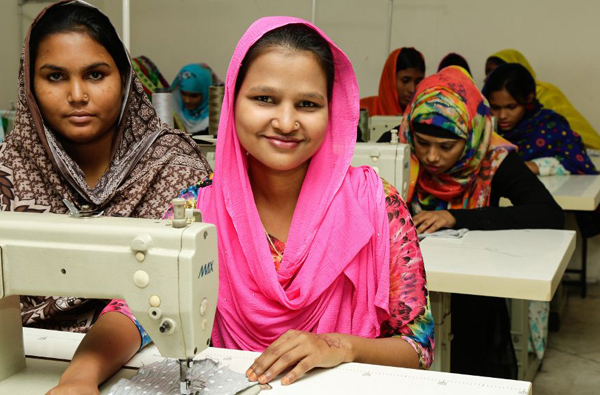 Dhaka, Bangladesh (BBN) – Bangladesh's export earnings grew by 17.24 per cent in the first five months of the ongoing fiscal year (FY) following higher shipment of apparel products.
The overall export earnings rose to US$17.07 billion in the July-November period of the FY 2018-19 from $14.57 billion in the same period of the FY 18, the state-run Export Promotion Bureau (EPB)'s latest data showed.
Alone in November, exports receipts stood at $3.42 billion, up 11.94 per cent over the same month in the last fiscal year. The monthly target was, however, exceeded by 10.10 per cent.
Earnings from readymade garment (RMG) covering both knitwear and woven increased by 18.59 per cent to $14.19 billion during the period under review from $11.96 billion in the same period of the FY 18.
Knitwear exports went up by 17 per cent year-on-year to $7.31 billion in July-November from $6.24 billion while shipment of woven garments rose by 20.33 per cent to $6.89 billion from $5.72 billion.
The depreciating mode of local currency against the US dollar also contributed to achieve such hefty export growth, according to experts.
They also said the ongoing US-China trade war, strong US economy, the largest destination for products originating from Bangladesh, and improved factory capacity played vital roles for the leap in the earnings.
On the other hand, trade analysts have attributed to ongoing trade war between US and China as well as better growth of major non-RMG items helped achieving such hefty export growth, they explained.
Among the major sectors, agricultural products have posted a sharp rise by a 76.64 per cent growth to $458.64 million in the first five months of the FY 19, the EPB data showed.
Besides, export earnings from the pharmaceuticals sector rose by 33.96 per cent to $58 million, plastic goods by 30 per cent to $48.75 million, and specialized and home textiles by 54.37 per cent and 2.92 per cent respectively.
However, earnings from leather and leather goods witnessed a 16.11 per cent fall to $434.7 million during the period, which was $518.15 million in FY 18.
Exports of frozen and live fish also fell to $254.51 million from $272.4 million in the same period of the FY 18.
BBN/SSR/AD