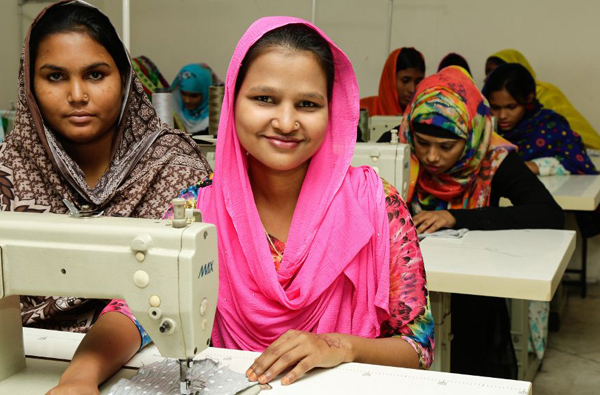 Dhaka, Bangladesh (BBN)– Readymade garment (RMG) sector needs "fair pricing" so that the industry can fully comply with standards, Bangladesh High Commissioner in the United Kingdom Saida Muna Tasneem has said.
Around 85 per cent of garment factories in Bangladesh had already met the international standards, assessed by Accord and Alliance — the two platforms of major global retailers, according to the high commissioner.
"To maintain higher standards, which is a major challenge, the garment sector needs to be paid more," Ms Tasneem explained.
The high commissioner was delivering a speech at the National Assembly for Wales in Cardiff on Tuesday, according to a press statement, issued by the Bangladesh High Commission in London on Friday.
Deputy ministers, assembly members of Wales, British-Bangladeshi academics, politicians, development activists and community leaders participated in the discussion on a study titled 'Bangladesh-a golden journey to development.'
Study Circle, a UK-based research organisation conducted the study and arranged the discussion meeting.
The event was chaired by Study Circle President Syed Mozammel Ali.
Among the participants were Deputy Minister and Chief Whip Jane Hutt, Deputy Minister for Health and Social Services Julie Morgan, assembly member for Cardiff Central Jenny Rathbone, assembly member for South Wales East Mohammad Asghar, Justice Shamsuddin Chowdhury Manik, Councilor Dilwar Ali and journalist Asnar Ahmed Ullah.
Highlighting the priorities for the third tenure of the government of Sheikh Hasina, the high commissioner said the government has envisioned a prosperous Bangladesh with implementing a number of mega projects for driving GDP growth to 10 per cent by 2021.
Putting importance on strengthening bilateral relations between Bangladesh and Wales, she proposed that the areas of greater cooperation could be in promoting tourism and heritage besides exploring new avenues of trade and investment.
She also called upon the Bangladeshi people living in Wales to come up with their ideas, innovations and investment to make Bangladesh a prosperous country.
The participants lauded the recent development in Bangladesh and suggested that the issues related to climate change, population growth and community healthcare should be addressed with taking effective measures for sustainable economic growth, according to the statement.
Study Circle researcher Shajia Sultana Snigdha gave a brief on the study and its Coordinator Jamal Khan gave the vote of thanks.
In Cardiff, Ms Tasneem also held meetings with leader of Cardiff Council Huw Thomas, Head of Economic Development of Cardiff Council Ken Pool and Director of South and Mid Wales Chamber of Commerce Heather Myers for discussing the ways of expanding bi-lateral trade and investments between Bangladesh and Wales.
BBN/SSR/AD