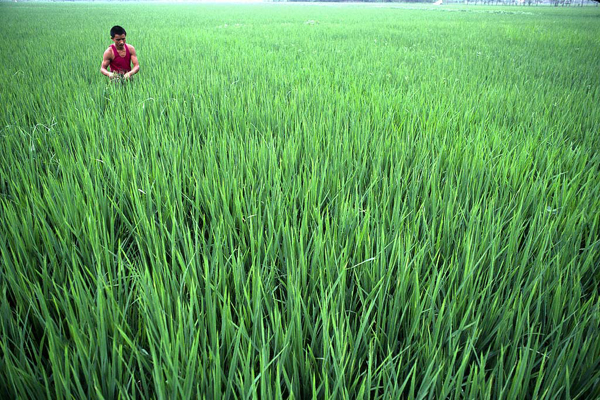 Dhaka, Bangladesh (BBN)– Farm credit disbursement fell by 15.11 per cent in July, the first month of the current fiscal year (FY), 2019-20, mainly due to flood at different parts of Bangladesh.
Disbursement of agriculture loan came down to BDT 9.77 billion in July from BDT 11.51 billion a year ago, according to the central bank's latest statistics.
Bangladesh witnessed more than one month-long (July 01 to August 01) flood that marooned 6.07 million people in 28 districts out of 64, and caused death to more than 100 people.
Of the BDT 9.77 billion, eight public banks disbursed BDT 4.16 billion, and the remaining BDT 5.61 billion was disbursed by the private commercial banks (PCBs) and foreign commercial banks (FCBs).
Meanwhile, all scheduled banks have achieved 4.05 per cent of their FY '20 agricultural loan disbursement target, fixed at BDT 241.24 billion.
The recovery of farm loans, however, came down to BDT 13.53 billion in the first month of FY '20 from BDT 15.45 billion in the same period of the previous fiscal, the Bangladesh Bank (BB) data showed.
The central bank, however, is set to meet with all the scheduled banks in the next week of this month for reviewing the latest situation on agriculture loan disbursement and recovery performances.
The BB high ups are scheduled to meet with senior officials of PCBs at the central bank headquarters in Dhaka on August 26.
On August 27, the central bankers are set to meet with senior officials of eight state-owned banks (SoBs) on same ground, according to officials.
The SoBs are – Sonali Bank Limited, Janata Bank Limited, Agrani Bank Limited, Rupali Bank Limited, BASIC Bank Limited, Bangladesh Development Bank Limited (BDBL), Bangladesh Krishi Bank (BKB) and Rajshahi Krishi Unnayan Bank (RAKUB).
At the meetings, the central bank will ask the bankers for taking effective measures to boost farm credit disbursement from now aiming to achieve their targets by the end of this fiscal.
Talking to the BBN, a BB senior official said the central bank will ask the bankers at the meetings to disburse agriculture loans in an effective and efficient manner.
He also said the disbursement of farm credit normally falls slightly from the beginning of each fiscal year. "The flood also pushed down the agriculture loan disbursement at different parts of the country."
"It's a seasonal effect," Md. Ali Hossain Prodhania, managing director of Bangladesh Krishi Bank (BKB), said while explaining the main reason behind the falling trend of agri loan disbursement.
"The disbursement of farm loan has already picked up that will be continued until June 2020,"
He also expressed hope that BKB will cross its agriculture loan disbursement target by the end of this fiscal. BKB had set Tk 55 billion farm loan disbursement target for FY '20.
BBN/SSR/AD