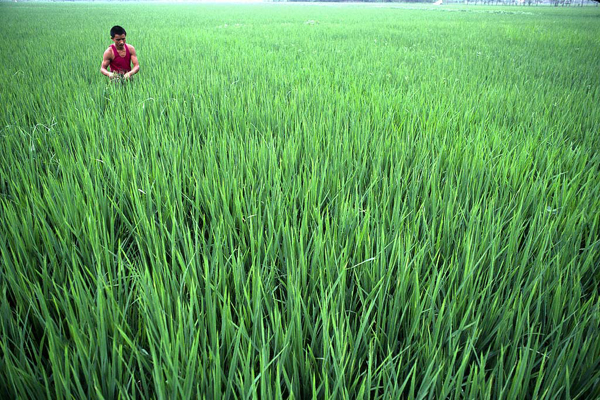 Dhaka, Bangladesh (BBN)– Farm credit disbursement grew by 5.56 per cent in the first-half (H1) of this fiscal year (FY), 2019-20, as demand for such loan has been picked up due to seasonal effects.
Disbursement of agriculture loan rose to BDT 108.00 billion in the July-December of FY '20 from BDT102.31 billion in the same period of the previous fiscal, according to the Bangladesh Bank's (BB) latest statistics, released on Monday.
Of the BDT 108.00 billion, eight state-owned banks (SoBs) disbursed BDT 54.29 billion, and the remaining BDT 53.72 billion was disbursed by the private commercial banks (PCBs) and foreign commercial banks (FCBs).
On the other hand, the recovery of farm loans rose to BDT 115.00 billion during the period under review from BDT113.93 billion in the same period of the previous fiscal, the BB data showed.
Meanwhile, all scheduled banks have achieved 44.77 per cent of their FY '20 agricultural loan disbursement target, fixed at BDT 241.24 billion.
Talking to the BBN, a BB senior official said the central bank is working continuously to achieve the agriculture loan disbursement target by the end of this fiscal.
As part of the move, the BB is set to meet with senior officials of eight public banks on January 28 for reviewing the latest situation on agriculture loan disbursement and recovery performances, according to the central banker.
The SoBs are – Sonali Bank Limited, Janata Bank Limited, Agrani Bank Limited, Rupali Bank Limited, BASIC Bank Limited, Bangladesh Development Bank Limited (BDBL), BKB and Rajshahi Krishi Unnayan Bank (RAKUB).
At the review meeting, the central bank will ask the public banks for taking effective measures to boost farm credit disbursement for achieving their targets by the end of this fiscal.
The disbursement of agriculture loan will be increased in the second-half (H2) than H1 of the FY '20, according to Md. Ali Hossain Prodhania, managing director of Bangladesh Krishi Bank (BKB).
Mr. Prodhania also believed that annual target of farm credit disbursement will be achieved finally.
BBN/SSR/AD