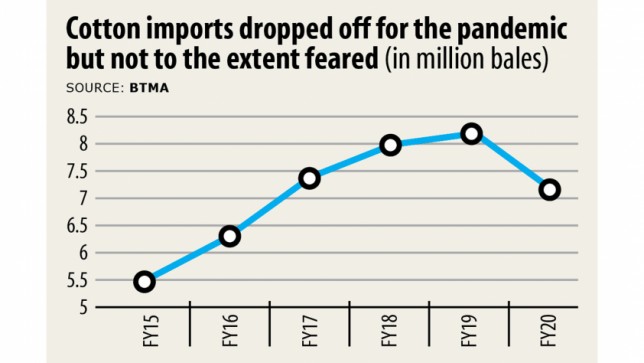 Dhaka, Bangladesh (BBN) – The BBN (Bangladesh Business News) has prepared the morning business round up compiling reports, published by different newspapers and news portals in Bangladesh.
Cotton imports tipped to return to pre-pandemic levels by year-end
Cotton imports witnessed a slump for the first time in over a decade last fiscal year due to a fall in demand from local mills amid a stunning drop in apparel work orders for the global coronavirus pandemic. In fiscal 2019-20, Bangladesh imported 7.1 million bales of cotton, down 13.4 per cent from a year earlier, according to data from the Bangladesh Textile Mills Association (BTMA).
Record 20.26m tonnes of Boro yield this yr
The production of rice in the Boro season this year was an all-time high of 20.26-million tonnes, said a government agency on Sunday. The Bangladesh Rice Research Institute (BRRI) said the country might have 5.55-million tonnes of surplus rice until next November following such bumper production. The BRRI disclosed this during a webinar styled 'National Seminar on Food Security in the COVID-19 Era: Is Bangladesh Really Going to Face Any Rice Shortage in the Short Run?'
Slow pace in low-income groups' stimulus loan disbursement
Disbursement of the Tk3,000 crore stimulus fund for low-income groups has been progressing at a snail's pace even though three and a half months have elapsed after the package was launched. The fund recipients include farmers, small traders, and cottage, micro and small entrepreneurs.
Covid-19: Trade disruptions to hit women in jobs, businesses, harder than men
Women are likely to be harder hit than men by trade disruptions caused by the Covid-19 pandemic. The dangers are particularly acute in developing countries such as Bangladesh, says the World Trade Organization (WTO). A new note of WTO, "Economic Impact of Covid-19 on Women in Vulnerable Sectors and Economies," revealed this last week.
Pandemic derailed development works
The government has decided to prepare a roadmap to ensure full implementation of the annual development programme this fiscal year after development expenditure fell to a 27-year low in fiscal 2019-20. "The ADP implementation was slow last fiscal year but none of us was responsible for it," Planning Minister MA Mannan told The Daily Star yesterday.
BB relaxes loan restructuring policy for NBFIs
The central bank has relaxed its loan restructuring policy for non-banking financial institutions (NBFIs) to help the businesses overcome the adverse impact of the Covid-19 pandemic. Under the relaxations, the NBFIs are allowed to extend the tenure of term loans and leases by a maximum of 50 per cent of the remaining time to maturity, instead of existing 25 per cent, according to a notification issued by the Bangladesh Bank (BB) on Sunday.
DSEX gains 180 points, stocks extend bull run to 11th day
Dhaka stocks shot up by 180.32 points on Sunday, extending the gaining streak to the 11th trading sessions as investors flocked to the market amid the gradual improvement in economic activities in the country despite the coronavirus outbreak. DSEX, the key index of the Dhaka Stock Exchange, added 4.13 per cent to close at 4,545.15 points on the day.
Bangladesh Bank to introduce deposit scheme in local banks for expatriates
The central bank is going to introduce a facility under which Bangladeshi expatriates will be able to open deposit accounts in any banks in Bangladesh. The deposit scheme will be in the form of savings for a period of one year or above with monthly or quarterly deposit options. Foreign currency will be converted into taka in the accounts.
BBN/SSR/AD