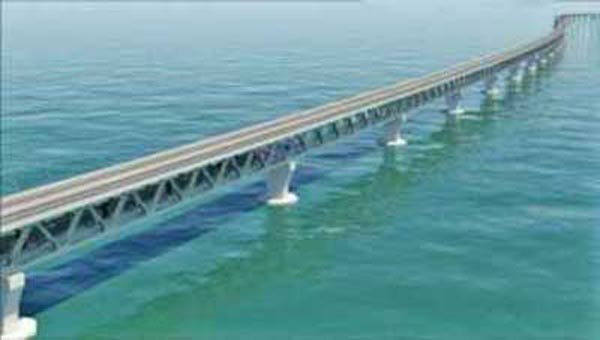 Dhaka, Bangladesh (BBN) – The BBN (Bangladesh Business News) has prepared the morning business round up compiling reports, published by different newspapers and news portals in Bangladesh.
Govt may send team to China to speed up signing of deal
The government may again send a high-powered team to China at the end of January to speed up the signing of the deal on the Padma rail link project, one of the largest infrastructure initiatives of the country. A finance ministry official said a seven-member team led by MA Mannan, state minister for finance and planning, might fly to China on January 21. The team members will include the secretaries of the railway ministry and the Economic Relations Division.
FoB imports flourish to consignees' comfort
Bangladesh's imports through FoB arrangement are rising rapidly, implying that overseas procurement is now dominated by local consignees in a paradigm shift in external trade. But large importers, who have transport facilities under their own command, disagree with the changes in freights in import trade.
BEZA permit must for EZ units to sell goods locally
Factories located at the economic zones will need to obtain local sales permit (LSP) from the Bangladesh Economic Zone Authority to sell finished goods in the local market for consumption. Factories will also have to receive local procurement permit (LPP) from BEZA to enjoy duty and tax free benefits at purchasing raw materials and semi-finished goods from local market under the bonded warehouse scheme of the National Board of Revenue.
TIB concerned over Farmers Bank's failure to refund climate fund, depositors' money
Transparency International Bangladesh (TIB) has expressed deep concern over Farmers Bank's failure to refund Tk508 crore to Bangladesh Climate Change Trust Fund (BCCTF), along with deposits of various other clients. TIB called upon the government to ensure transparency and accountability of all the stakeholders involved in managing the funds.
Bangladesh Taka depreciates by 5.08% against US$ in 2017
The Bangladesh Taka (BDT) has depreciated by 5.08 per cent against the US dollar in the just-concluded calendar year mainly due to higher demand for the greenback for settling import payment obligations. The US dollar was quoted at BDT 82.70 in the inter-bank foreign exchange (forex) market on December 28, the last working day of 2017 against BDT 78.70 on December 29, 2016, the last working day of the year.
Tk 165cr AB Bank Scam: ACC finds links of businessman
The Anti-Corruption Commission has found that businessman Saiful Haque was involved in the laundering of around Tk 165 crore from AB Bank between 2013 and 2014. ACC officials grilled the businessman for about six hours at its Segunbagicha headquarters yesterday.
BBIN connectivity talks in Delhi today sans Bhutan
Talks begin today (Wednesday) in Delhi about introducing the stalled sub-regional transport connectivity under BBIN bloc, leaving out a reluctant Bhutan. The negotiations on implementation of the Bangladesh-Bhutan-India-Nepal (BBIN) motor-vehicle agreement (MVA) are resuming nearly two years after the suspension following Bhutan's last-minute volte- face.
301 Alliance-linked units complete remediation
Fifty-four more readymade garment factories which make products for North American retailers and buyers have completed full safety remediation in December in 2017. Including the 44 new RMG factories, total number of remediated factories affiliated with the Alliance for Bangladesh Worker Safety, a platform of North American buyers and retailers, reached 301, the platform said in a statement issued on Monday.
BBN/SSR/AD