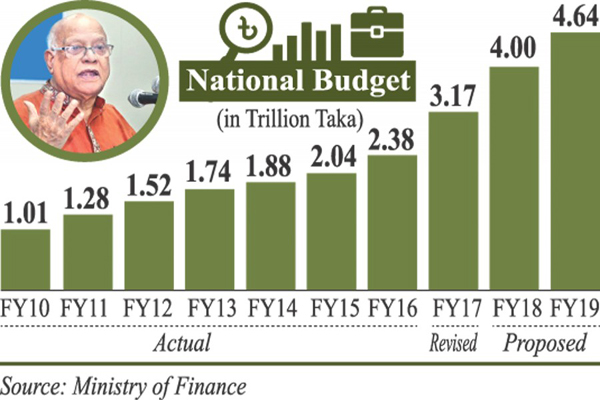 Dhaka, Bangladesh (BBN) – The BBN (Bangladesh Business News) has prepared the morning business round up compiling reports, published by different newspapers and news portals in Bangladesh.
Muhith unwraps Tk 4.64 trillion budget today
The government unveils the last budget of its present tenure today (Thursday). Finance minister AMA Muhith is set to place the budget before Jatiya Sangsad with a record outlay of over Tk 4.64 trillion. The size of the upcoming budget will be equivalent to 18 per cent of the country's gross domestic product or GDP, estimated at US$ 220 billion.
Bangladesh-made jerseys win global hearts
Bangladesh exported fan jerseys worth $1 billion for all 32 nations participating in the 2018 FIFA World Cup in what can be viewed as an exciting opening for the country's garment exporters. "This time, the work orders from Bangladesh were higher than the previous edition of the World Cup," said Mohammed Hatem, managing director of Narayanganj-based MB Knit Fashion.
Banking sector woes mar mixed economic performance
Finance minister Abul Maal Abdul Muhith announces today the national budget for the next fiscal year of 2018-2019 with the banking sector woes overshadowing mixed performances of the other major economic indicators in the outgoing fiscal year. Budget implementation was weak, private investment improved marginally, banking sector continued to deteriorate and external sector exposed to some risks despite a record-high GDP growth in the year.
What impact will corporate tax cuts have?
Corporations can likely look forward to a slight decrease in the corporate tax rate in the upcoming fiscal year. But businessmen and economists have had mixed views about possible corporate tax cuts, ranging from caution to enthusiasm.
Bangladesh introduces term repo to ensure banks liquidity
The central bank of Bangladesh has introduced term repurchase agreement (repo) facility for the first time to ensure liquidity in the banking system. All scheduled banks are allowed to avail liquidity from the central bank for durations ranging from seven days to maximum 28 days, according to a notification, issued by the Bangladesh Bank (BB), on Wednesday.
NBR set to miss tax collection target again
The revenue board is likely to fail to reach the tax collection target for the sixth consecutive year in the current fiscal year. Collection grew 18 percent year-on-year to Tk 161,234 crore in July-April of 2017-18, according to data from the National Board of Revenue.
442 textile, RMG units prone to unrest
Some 442 textile and readymade garment (RMG) factories across the country are 'vulnerable' to labour unrest over payment of wages and festival allowances, officials said. Intelligence agencies recorded 168 and 158 incidents of unrest in March and April respectively this year.
New rate brings down int'l call volume
The average incoming international calls per day through legal channels declined by 11.11 per cent or 60 lakh minutes in May this year after the government surprisingly increased call termination rate in February this year, said officials. As per the latest report of Bangladesh Telecommunication Regulatory Commission, average international call termination through legal channel declined to 4.8 crore minutes per day in May from 5.4 crore minutes per day in February, when the Bangladesh Telecommunication Regulatory Commission introduced the new call termination rate at 2.5 US cents per minute.
BBN/SSR/AD