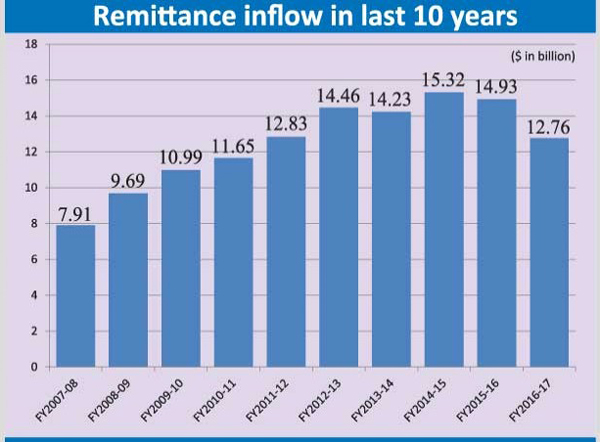 Dhaka, Bangladesh (BBN) – The BBN (Bangladesh Business News) has prepared the morning business round up compiling reports, published by different newspapers and news portals in Bangladesh.
Remittance hits 6-yr low in FY17 as $2b wiped off
Country's inward remittance slumped to a six-year low to $12.76 billion in the just concluded fiscal year (2016-17) as many expatriate Bangladeshis opted to send their money home through illegal channels like hundi and the current dull business situation in the Middle East countries, where most of the expatriates live, impacted their earnings. The inward remittance decreased by 14.47 per cent, or $2.16 billion, to $12.76 billion in FY17 compared with that of $14.93 billion in FY16, according to the latest Bangladesh Bank data released on Sunday.
BB updates SME terms
Bangladesh Bank (BB) has updated its definition of micro, cottage, small and medium enterprises in line with the National Industrial Policy 2016 and set a limit to the amount of credit they can avail. Moreover, banks must set aside for SMEs 20 percent of the loans they give out in 2017 and raise it to 25 percent by 2021. Of that for SMEs, at least 50 percent has to be kept for cottage, micro and small enterprises, said a circular published on Thursday.
Budget deficit likely to be 7.46% of GDP
Even as the National Board of Revenue imposes more supplementary duties on imports, the budget deficit is likely to widen further to 7.46% of gross domestic product by the end of the new fiscal year, according to Finance Division prediction. The budget deficit will increase to Tk1,66,000 crore from the current target of Tk1,12,276 crore, officials said. The total rise of the deficit will be Tk44,834 crore while the size of the total GDP outlay will be Tk22,23,600 crore.
Over 30m mobile banking accounts inactive
The number of inactive mobile banking account users has crossed 31.2 million mark by May this year, according to the latest Bangladesh Bank data. The central bank data showed that till May a total of 52.6 million users were registered with Mobile Banking Service (MFS). Of them, 21.4 million accounts are active only.
Bangladesh's stocks slip into red after 6-day gain
Bangladesh's stocks slipped into the red on Sunday, the first trading session of new fiscal year, as investors booked quick-profit on sector specific stocks.
Dhaka set to ink LNG import deal with Doha this month
The government is set to initial a long-term agreement with Qatar this month to import up to 4 million tonnes of liquefied natural gas per annum from early 2018 to meet the country's growing demand, officials have said.
Accord's extension unexpected: Tofail
The extension of the Accord on Fire and Building Safety in Bangladesh by three more years was unexpected as the decision was taken unilaterally by the trade unions, retailers and global brands, Commerce Minister Tofail Ahmed said yesterday.
Japan to provide $1.59b this year
Japan, Bangladesh's largest bilateral lender, is set to provide $1.59 billion in loans this fiscal year but the interest rate will be increased and repayment period reduced in light of the country's graduation to the lower middle-income bracket.
BBN/SSR/AD