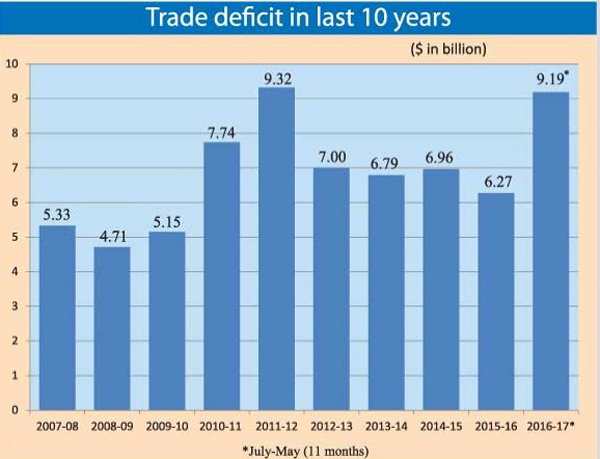 Dhaka, Bangladesh (BBN) – The BBN (Bangladesh Business News) has prepared the morning business round up compiling reports, published by different newspapers and news portals in Bangladesh.
Country's trade deficit set to hit record $10b in FY17
The country's trade deficit is set to cross $10 billion for the first time in the just concluded fiscal 2016-17 as the deficit in the first 11 months of the year stood at $9.19 billion, increasing by 42.58 per cent compared with that of the same period of FY16. Bangladesh Bank officials said that the trade deficit might cross $10 billion mark in the just-concluded fiscal year as export earnings decreased to $3.04 billion in June of FY17, posting a year-on-year negative growth of 15.27 per cent, from $3.50 billion during the corresponding month of FY16.
Govt to identify depositors, take action
The government after proper investigation would take action against the Bangladeshis who have deposited money in Swiss banks, Food Minister Qamrul Islam said in parliament yesterday while filling in for the finance minister. He made the comment while replying to a supplementary question from Jatiya Party lawmaker Pir Fazlur Rahman.
CPD calls on govt to form reform commission to stop looting of banks
The Centre for Policy Dialogue has called for steps to form a transparent reformation commission to put an end to banking scams. The local think tank also stressed on the need for political goodwill to this end. CPD made the observations at a national budget discussion titled National Budget FY2017-18: Post-Approval Observations, held in Brac Centre Inn in the capital on Monday.
Set energy prices for a certain period
A number of Singaporean business-people yesterday called for adequate supply of gas and a fixed energy price for a certain period as they explore investment opportunities in Bangladesh. The subjects surfaced during a meeting between the Bangladesh Investment Development Authority (BIDA) and a delegation of the Singapore Business Federation at the capital's Sonargaon hotel.
Bangladesh's stock turnover hits four-month high
Bangladesh's stocks ended higher on Monday, with key index of the prime bourse hitting new high, as optimistic investors continued their buying spree amid optimism. Daily trade turnover on Dhaka Stock Exchange (DSE) also stood at BDT 12.64 billion, for the first time in nearly four months since March 22 this year, as investors put fresh stakes on stocks.
Export earnings from Germany cross $5b as US, UK markets slump in FY17
Country's export earnings from Germany crossed $5 billion in the just concluded financial year 2016-17 while exports to the United States and the United Kingdom, the major markets for Bangladesh, slumped by more than 6 per cent in the year. Experts and exporters said that the export earnings slumped in the major markets due to global fall in apparel demand and appreciation of local currency (Taka) against Dollar as well as fall in price of Euro and Pound.
Muhith releases names of 100 top loan defaulters
Finance Minister AMA Muhith revealed a list of top 100 loan defaulters at the Jatiya Sangsad on Monday. According to Muhith, financial institutions in Bangladesh currently have defaulted Tk1,11,347cr. The spree of financial disclosure was a response to a query by MP Muhibur Rahman Manik.
Bangladesh should go for high-end apparel
Bangladesh should focus more on value added, high-end apparel items rather than basic, traditional products to make the business sustainable amidst the fierce competition in the global garment trade, a group of European garment buyers said yesterday. The European fashion market is rebounding as the retail sales of garment items have been increasing by 3-4 percent year-on-year over the last few years, the retailers said.
BBN/SSR/AD