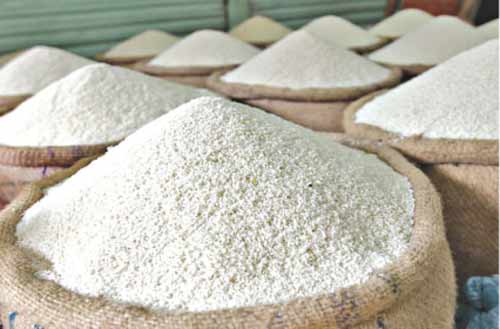 Dhaka, Bangladesh (BBN) – The BBN (Bangladesh Business News) has prepared the morning business round up compiling reports, published by different newspapers and news portals in Bangladesh.
Rice prices soar further
Rice prices shot up further by Tk 10 per kg on an average in one month, hurting consumers, particularly the country's poor and the low-income groups. Rice prices steadily rose in last five months though the government imported the staple to keep the market stable. Food officials told New Age that limited imports proved far too insufficient to offset the shortfall in rice production caused by massive floods.
Bangladesh's banks' net income drops 32.69% for higher NPLs
Net income of all banks after provisioning and tax dropped by 32.69 per cent or BDT 8.96 billion as on June 30 this year mainly due to higher classified loans. The net income of the all scheduled banks came down to BDT 18.45 billion as of June 30, 2017 from BDT 27.41 billion a year ago, according to unaudited and provisional figures, compiled by Bangladesh Bank (BB), the country's central bank.
Data shows rapid increase of multimillionaire depositors in last six months
The number of multimillionaire depositors in Bangladesh has increased by 3,913 in the span of six months, according to a report published by Bangladesh Bank on Sunday. The report stated that the number of multimillionaire account holders in commercial banks across the country currently stood at 65,951, as compared to 62,038 in March.
BD inks MoU with Oman to import LNG
Bangladesh inked a memorandum of understanding (MoU) with Oman last week for LNG (liquefied natural gas) imports, said officials. State-run Petrobangla will now initiate negotiation with Oman LNG soon to fix up volume, price and specification of the LNG to imported from the Middle Eastern country, said a senior official of the Energy and Mineral Resources Division under the Ministry of Power, Energy and Mineral Resources.
Bangladesh stocks end almost flat amid high turnover
Bangladesh's stocks ended almost flat in the red on Tuesday amid volatile trading as investors were active on both sides of trading fence throughout the session. Dealers said some investors preferred to book profit on large-cap stocks that saw substantial gain in recent upsurge, while some took position on sector-wise stocks, taking the market in the red territory for the second day.
Bank company amendment bill placed at JS
The Bank Company (Amendment) Bill 2017 allowing four members of the same family to become directors of a commercial bank was placed before Jatiya Sangsad on Tuesday. The proposed law will also allow the commercial bank directors to serve three consecutive terms of three years, in place of existing provision for two consecutive three-year terms.
Bangladesh's SoCBs asked to check NPLs for improving health
The central bank of Bangladesh has asked four state-owned commercial banks (SoCBs) to improve financial health through reducing the volume of classified loans. The leading public banks have also been instructed to expedite SME (small and medium enterprise) lending particularly manufacturing sector rather than large loans to minimise their risks
Govt to import sugar to meet post-flood shortage
The government is going to import 50,000 tonnes of refined sugar to increase national stock and meet possible shortage of the essential food item, said official sources. The decision came at a time when the retail prices of sugar fell during the last couple of months.
BBN/SSR/AD