Dhaka, Bangladesh (BBN) – The prices of per kg potato decreased slightly while the prices of per kg local and imported onion increased in Dhaka on Wednesday.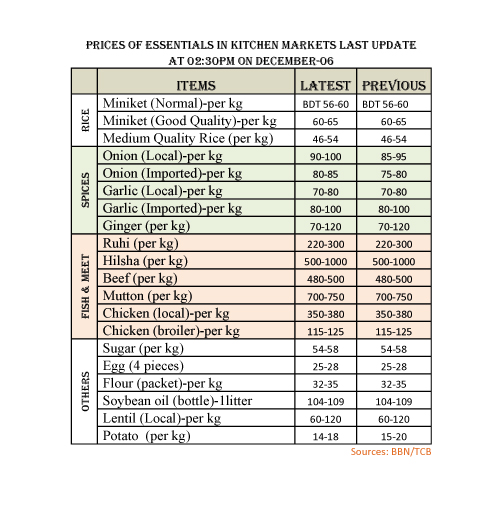 Prices of local and imported onion mounted due to unavailability of the essential and the prices of potato decreased slightly for smooth supply of the essentials.
The price of per kg potato is at BDT 14-18 on Wednesday where it was at BDT 15-20 on Tuesday, according to latest data provided by the state-run Trading Corporation of Bangladesh (TCB).
On the other hand, the price of per kg local onion is at BDT 90-100 today while it was at BDT 85-95 on Tuesday.
However, the price of per kg imported onion is at BDT 80-85 today while it was at BDT 75-80 on Tuesday.
The prices of other essential items however remained almost unchanged at different kitchen markets in Dhaka on Wednesday, the TCB data added.
BBN/MMI/ANS