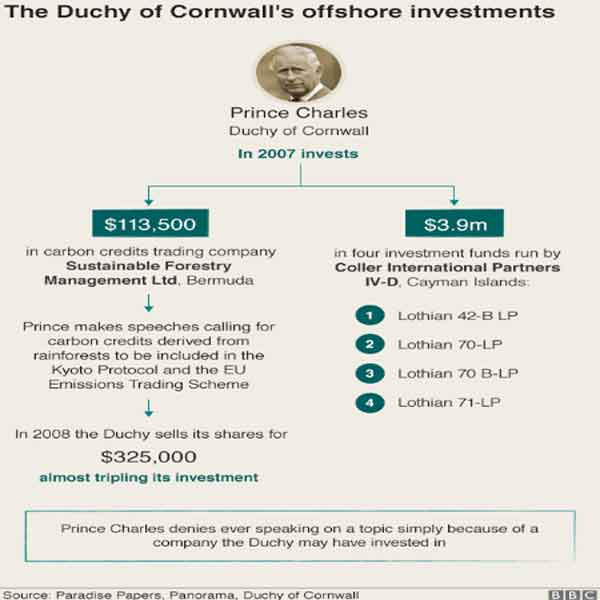 London, UK (BBN) – Prince Charles campaigned to alter climate-change agreements without disclosing his private estate had an offshore financial interest in what he was promoting, BBC Panorama has found.
The Paradise Papers show the Duchy of Cornwall in 2007 secretly bought shares worth $113,500 in a Bermuda company that would benefit from a rule change, reports BBC.
The prince was a friend of a director of Sustainable Forestry Management Ltd.
The Duchy of Cornwall says he has no direct involvement in its investments.
A Clarence House spokesman said the Prince of Wales had "certainly never chosen to speak out on a topic simply because of a company that it [the Duchy of Cornwall] may have invested in".
He added: "In the case of climate change his views are well-known, indeed he has been warning of the threat of global warming to our environment for over 30 years.
"Carbon markets are just one example that the prince has championed since the 1990s and which he continues to promote today."
'CONFLICT OF INTEREST'
He added Prince Charles was "free to offer thoughts and suggestions on a wide range of topics" and "cares deeply" about the issue of climate change but "it is for others to decide whether to take the advice".
Sir Alistair Graham, former chairman of the Committee on Standards in Public Life, said Prince Charles's actions amounted to a serious conflict of interest.
He said: "There's a conflict of interest between his own investments of the Duchy of Cornwall and what he's trying to achieve publicly.
"And I think it's unfortunate that somebody of his importance, of his influence, becomes involved in such a serious conflict."
The leaked documents held by law firm Appleby show the Duchy of Cornwall also made offshore investments totalling $3.9m in four funds in the Cayman Islands in 2007. This is legal and there is no suggestion of tax avoidance.
A Duchy of Cornwall spokesman said Prince Charles voluntarily pays income tax on any revenue from his estate.
He added the estate's investments "do not derive any tax advantage whatsoever based on their location or any other aspect of their structure and there is no loss of revenue to HMRC as a result".
KEPT CONFIDENTIAL
The prince began campaigning for changes to two important environmental agreements weeks after Sustainable Forestry Management (SFM) sent his office lobbying documents.
Prince Charles's estate almost tripled its money in just over a year although it is not clear what caused the rise in the share value. Despite his high profile campaign, the environmental agreements were not changed.
The documents reveal the Duchy of Cornwall, an £896m private estate that provides Prince Charles with an income and which he is said to be "actively involved" in running, bought the shares in February 2007. At the time $113,500 was worth about £58,000.
One of SFM's directors was the late Hugh van Cutsem, a millionaire banker and conservationist who has been described as the one of the Prince's closest friends.
The minutes of a company board meeting that approved the Duchy's shareholding say: "The Chairman thanked Mr van Cutsem for his introduction of the Duchy of Cornwall and the Board unanimously agreed that the subscription by the Duchy of Cornwall be kept confidential except in respect of any disclosure required by law."
CHANGE IN POLICY
SFM traded in carbon credits, a market created by international treaties to tackle global warming.
It wanted to trade in credits from "tropical and subtropical forests" but was hampered by two important climate change agreements, the EU's Emissions Trading Scheme (EU ETS) and the Kyoto Protocol, which largely excluded carbon credits from rainforests.
When the Duchy bought its shares, SFM was lobbying for a "change in policy" on carbon credits, the documents show.
It had hired the US former lead negotiator on the Kyoto Protocol, Stuart Eizenstat "to lobby for inclusion of forest carbon credits" in new US and EU laws and regulations.
Board minutes from February 2007 show SFM was also taking "steps to influence events to support forest credits" ahead of Kyoto Protocol meetings at the end of the year.
On 6 June 2007, four months after the Duchy bought its shares, Mr van Cutsem asked SFM's chairman to send lobbying documents to the office of the prince.
Under the heading "public policy and advocacy", minutes of a board meeting held in Paris say "the chairman referred the committee to the bundle of materials which had been prepared by the company for various policymakers… Mr van Cutsem… asked that a set of documents be prepared for the Prince of Wales office. The chairman undertook to do so".
RAINFORESTS PROJECT
Four weeks later, on 2 July, Prince Charles, made a speech that criticised the EU ETS and Kyoto Protocol for excluding carbon credits from rainforests, and called for change.
Speaking at the Business in the Community Awards Dinner, the prince said: "As the Kyoto protocol now stands tropical rainforest nations have no way of earning credits from their standing forests other than by cutting them down and planting new ones," he said.
"The European Carbon Trading Scheme excludes carbon credits for forests from developing nations. This has got be wrong and we must urge the international community to work together to redress these failings urgently."
In October 2007, he launched the Prince's Rainforests Project, which aimed to "increase global recognition of the contribution of tropical deforestation to climate change and to find ways to make the rainforests worth more alive than dead."
In a speech to mark the launch, he said: "The Kyoto Protocol does not have a mechanism to protect standing rainforests.
"Credits are available for afforestation and reforestation projects, but not for maintaining an old growth forest. And the European Trading Scheme excludes carbon credits for forestry in developing nations altogether… surely we have to accept that the pressing urgency of climate change requires a response that embraces rather than excludes primary tropical forests?"
Panorama has been unable to find evidence of any speeches the prince made before 2008 about changing Kyoto and EU ETS to include carbon credits for rainforests. The programme asked the prince's office for any such speeches but they did not respond.
'HELPING HAND'
Over the next six months, the future king made further speeches and videos about rainforests.
In a video released in January 2008, the prince said: "The immediate priority, I believe, is the need to develop a new credit market which will give a true value to carbon and the ecosystem services the rainforests provide the rest of the world."
In February 2008, he reportedly discussed rainforests at a private meeting with the then Prime Minister Gordon Brown.
Days later, he met with the then President of the European Commission, Jose Manuel Barroso, and the EU's environment, energy, trade and agriculture commissioners.
In a speech to 150 MEPs, he said: "I have great hopes that the next version of the European Emissions Trading scheme might extend the helping and very visible hand of a market approach to assist in keeping the rainforests standing… the lives of billions of people depend on your response and none of us will be forgiven by our children and grandchildren if we falter and fail."
On 18 June 2008, as the global financial crash was beginning, the Duchy sold its stake in SFM.
The documents show it was paid $325,000 for the 50 shares.
SFM is no longer in existence.
The Duchy was established in 1337 and uses the income to fund the public, private and charitable activities of the Prince of Wales and his children. Its accounts are independently audited and put before Parliament.
A Duchy of Cornwall spokesman said the estate followed a "responsible investment policy which governs the sectors that it may invest in".
The Paradise Papers documents also showed about £10m of the Queen's private money was invested offshore in 2004-2005 in Bermuda and the Cayman Islands.
PARADISE PAPERS EXPLAINER BOX
The papers are a huge batch of leaked documents mostly from offshore law firm Appleby, along with corporate registries in 19 tax jurisdictions, which reveal the financial dealings of politicians, celebrities, corporate giants and business leaders.
The 13.4 million records were passed to German newspaper Süddeutsche Zeitung and then shared with the International Consortium of Investigative Journalists (ICIJ). Panorama has led research for the BBC as part of a global investigation involving nearly 100 other media organisations, including the Guardian, in 67 countries. The BBC does not know the identity of the source.
BBN/MMI/ANS