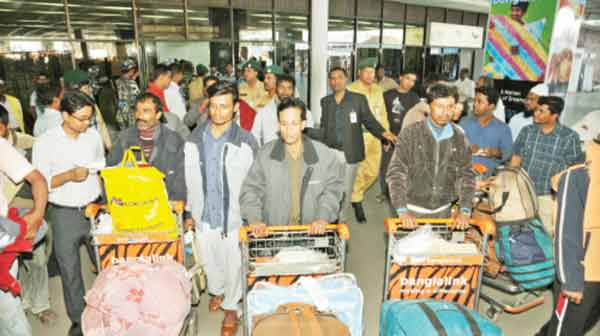 Dhaka, Bangladesh (BBN) – Rising trend of inward remittances continued in April following stable exchange of local currency against the US dollar, officials said.
The remittance inflow was estimated at $1.33 billion in April 2018, up by $27.41 million from that of the previous month. In March last, the amount stood at $1.30 billion. It was $1.09 billion in April 2017.
Talking to the BBN, a senior official of the Bangladesh Bank (BB) said: "We expect that the inflow of remittance may rise further in the coming months ahead of the Holy Ramadan."
The central banker also said the BB has already strengthened its monitoring to keep the exchange of Bangladesh Taka (BDT) against the greenback stable.
The inflow of overall remittance jumped by 17.51 per cent or $1.80 billion to $12.09 billion during the July-April period of the ongoing fiscal year (FY) 2017-18 from $10.29 billion in the same period of the previous fiscal, the BB data showed.
Currently, 29 exchange houses are operating across the globe along with 1205 drawing arrangements have been set up abroad to boost the remittance inflow.
"The upward trend of fuel oils prices in the global market has also contributed to raise the inflow of remittance," the central banker noted.
Senior bankers also expect that the existing upward trend of inward remittances may continue in the May-June period due to the Holy Ramadan.
They also said suggested to re-fix the exchange rate of the Bangladesh Taka (BDT) against the US dollar for remitters considering the unofficial market scenario.
"It will help attract more remitters to send their hard-earned money through official channel instead of hundi," a senior executive of a private commercial bank (PCB) explained.
He also said some banks have already taken different promotional initiatives to gear up inflow of the remittances before and during the Ramadan.
The inflow of remittance increased significantly in the first 10 months of this fiscal as strengthening monitoring by the central bank to curb illegal fund transfers, according to the private banker.
All PCBs received $ 975.57 million as remittances in April last while the state-owned commercial banks (SoCBs) received $326.56 million, foreign commercial banks (FCBs) $14.12 million, and specialised banks $10.93 million.
The central bank of Bangladesh earlier took a series of measures to encourage the expatriate Bangladeshis to send their hard-earned money through the formal banking channel, instead of the illegal "hundi" system to help boost the country's foreign exchange reserve.
BBN/SSR/AD