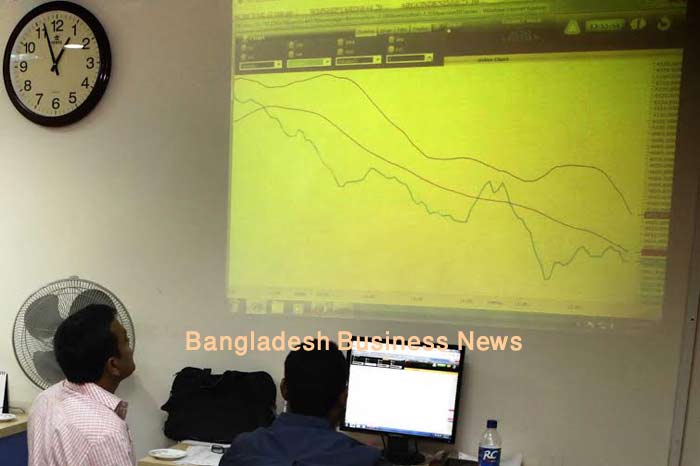 Dhaka, Bangladesh (BBN)– Bangladesh's stock prices declined on Wednesday, snapping a two-day winning streak, amid fear over coronavirus outbreak in the country.
"Bangladesh is now at high risk and urged all to stay alert as the virus has already spread in different parts of the globe," said Chinese Ambassador in Dhaka Li Jiming on Wednesday.
Stock markets around the world also plummeted in recent days as it has become increasingly clear the virus will take a huge toll on the global economy.
Many listed companies bring their raw materials from China, which has been on shut for a month for the outbreak of the virus that has already killed more than 3,100 lives.
DSEX, the prime index of the Dhaka Stock Exchange (DSE), went down by 56.45 points or 1.26 per cent to settle at 4,409.
Market analysts said investors lost confidence in the market for a long while fresh fear over coronavirus pandemic prompted them to sell-offs.
An analyst said the fear over possible impact of the single-digit interest rate on the banking business also dampened investors' confidence.
He noted that some investors followed 'go-slow' policy as there is no visible progress in the formation of a special fund for the stock market.
Two other indices also ended lower. The DS30 index, comprising blue chips, lost 15.05 points to close at 1,470 and the DSES (Shariah) index shed 14.48 points to settle at 1,023.
Turnover, an important indicator of the market, stood at BDT 5.10 billion on the country's premier bourse, falling by 16 per cent over the previous day's turnover of BDT 6.09 billion.
Losers took a strong lead over the gainers, as out of 356 issues traded, 243 closed lower, 80 ended higher and 33 remained unchanged on the DSE trading floor.
Silva Pharma topped the turnover chart with shares worth BDT 133 million changing hands, closely followed by Orion Pharma, SK Trims Industries, VFS Thread Dyeing and Saiham Textile.
Hakkani Pulp & Paper was also the day's best performer, posting a gain of 9.94 percent while ML Dyeing was the worst loser, losing 9.54 percent.
The Chittagong Stock Exchange also backed to the red with its All Shares Price Index (CASPI)—slumping by 186 points to close at 13,479 and the Selective Categories Index – CSCX –losing 115 points to finish at 8,167.
Here too, the losers beat gainers, as 171 issues closed lower, 58 ended higher and 20 remained unchanged on the CSE.
The port city bourse traded 10.81 million shares and mutual fund units worth BDT 202 million in turnover.
BBN/SSR/BB