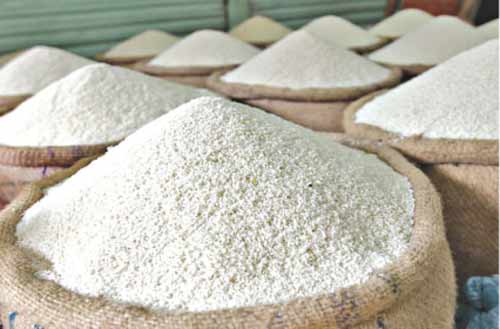 Dhaka, Bangladesh (BBN) – The BBN (Bangladesh Business News) has prepared the morning business round up compiling reports, published by different newspapers and news portals in Bangladesh.
Rice imports drop to four-decade low
Bangladesh's rice imports fell to a nearly 40-year low in the fiscal year 2019-20 thanks to farmers' endeavour to increase the yields of the main crop and allow the nation to be self-sufficient in the cereal production. Total import was 4,180 tonnes in the last fiscal year, marking a 98 per cent slump over the previous fiscal year, resulting from high import tariffs and adequate domestic production, food ministry data showed.
SANEM supports borrowing funds from reserves
The government can finance its large development projects from foreign exchange reserves instead of borrowing from the country's banking sector, a think-tank suggested on Saturday. Since foreign exchange reserves are currently in a better position due to increase in remittances and reduction in imports, the government can narrow down its budget deficit by borrowing from reserves to reduce pressure on banks, it said.
Banks ready to lend Tk2,000 cr to jobless youths, returnee expats
Three specialised banks and the Palli Karma Sahayak Foundation (PKSF) are ready with separate action plans aimed at distributing loans toward creating employment for youths and the rural poor and to rehabilitate returnee expatriates hit hard by the Covid-19 pandemic. They will finalise the draft plans at a Monday meeting with Financial Institutions Division Senior Secretary Md Ashadul Islam. They will start loan disbursement as soon as they obtain the allocated fund.
Farmers, traders yet to get loans 3 months after stimulus launch
Farmers, low-income group people and small-time traders are yet to get loans from the Tk 3,000 crore stimulus package that the central bank launched in April keeping to a government move to help marginal people affected by the COVID-19 outbreak. The loans from the package are supposed to be disbursed through non-government organisations by banks at 9 per cent interest.
EBL to offer Bangla QR payments
Eastern Bank Ltd will introduce an interoperable quick response (QR) payment system using mVisa platform in August in order to expedite the growth of cashless transactions in the country. The lender is the first bank in Bangladesh that will launch the contactless payment method by way of using the platform of Visa, one of the global leaders in digital payments technology.
Innovations key to economic recovery
Experts at a webinar on Saturday said successful economic recovery would largely depend on transparent public finances, accountability and information accuracy. Professionals the relevant fields have an important role to play to meet those preconditions, they maintained.
Stocks advance on bargain hunting
Dhaka stocks advanced in the past week as a section of investors continued to display an appetite for bargain hunting despite a surge in coronavirus infections in the country. DSEX, the key index of the Dhaka Stock Exchange, gained 1.88 per cent, or 74.83 points, to close at 4,061.57 points on the last trading session on Thursday.
The DSEX gained 101 points in the last three weeks.
At least 80 AB Bank employees lose jobs
At least 80 employees of AB Bank Ltd have been reportedly terminated or forced to resign recently amid the Covid-19 pandemic on the grounds of unsatisfactory performances. "The management of the bank has decided to terminate your employment from the service of the bank effective July 12, 2020," says a termination letter issued to an employee.
BBN/SSR/AD