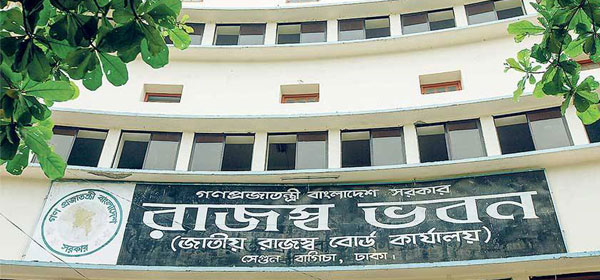 Dhaka, Bangladesh (BBN)– Collection of tax revenue by the National Board of Revenue (NBR) fell short of the target by 23.05 per cent or BDT 315.08 billion in the first half (H1) of this fiscal year (FY), 2019-20, due to sluggish economic activities, including import slowdown.
The aggregate tax revenue collection stood at BDT 1.05 trillion until December against the target of BDT 1.36 trillion set for the period, according to official latest data.
Three wings NBR — Income Tax, Customs and VAT — missed their respective targets for July-December period, the data showed.
During the July-December period, the NBR fulfilled only 32.29 per cent or one-third of its aggregate revenue collection target for FY '20, tax officials said, adding that it will be difficult to achieve the ambitious revenue collection target of BDT 3.25 trillion set for this fiscal.
VAT Wing collected the highest amount of revenue worth BDT 410.91 billion during the period under review, followed by Income Tax at BDT 326.46 billion, and Customs at BDT 314.23 billion.
Income tax collection witnessed the highest growth of 13.66 per cent, followed by VAT of 7.06 per cent, and customs duty at 1.96 per cent in H1 compared to that of the same period of FY '19.
Challenges in implementation of new VAT law, decline in import of revenue-generating products, and slow pace of reform in direct tax wing are the major reasons for failure in achieving the expected growth in tax revenue collection, the officials explained.
Senior economists, however, said the government's bank borrowing may increase in the coming months to meet its budget deficit partly, putting pressure on private sector credit flow.
The government's bank borrowing soared to BDT 508.42 billion until January 15, 2020, whereas the borrowing target for FY' 20 was BDT 473.64 billion.
By the year-end, the tax revenue collection shortfall might be 2.5-3.0 per cent of the gross domestic product (GDP), which might be difficult to manage even by slashing expenditure, they added.
BBN/SSR/AD