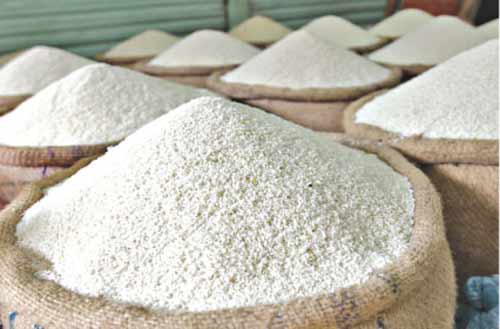 Bangkok, Thailand (BBN)– Rice exports from Thailand dropped in the third weeks of August, according to the USDA update.
Unofficial and preliminary rice exports excluding premium white and fragrant rice) for August 13-19, 2018, totaled 206,511 metric tons, down 47,201 metric tons from the previous week and down 1,828 metric tons from the four-week moving average of 208,339 metric tons.
Rice exports from January 1 – August 19, 2018 totaled 5,934,648 metric tons.
Despite the further strengthening of the Thai baht to 32.4 baht/U.S. $1.00 from 32.6 baht/U.S. $1.00 in the previous week, export prices of white rice remained unchanged from the previous week due to a lack of new inquiries.
Traders are still waiting for the sale of the remaining 267,418 metric tons of government rice stocks which will occur on August 29-30, 2018.
These retenders will consist of 245,077 metric tons of feed quality rice on August 29, 2018, and 22,341 metric tons of deteriorated rice on August 30, 2018.
Most of these rice stocks are 5.0 per cent grade white rice from the MY2011/12 – MY2012/13 pledging programs.
Meanwhile, MY2018/19 rice production is expected to increase to 21.2 million metric tons, up 4 percent from MY2017/18 due to expanded acreage and favorable weather conditions during the vegetative and reproductive growth stages.
In 2018, rice exports are expected to decline to 10.5 million metric tons, a 9.0 per cent reduction from the record 11.6 million metric tons exported in 2017 due to the limited availability of government food-quality rice stocks for sale in 2018 as the government finalized the sale of the remaining 43,725 metric tons of food quality rice stocks on June 6, 2018.
The government has approved three domestic support programs to assist rice farmers during the MY2018/19 harvest season.
BBN/SSR/AD