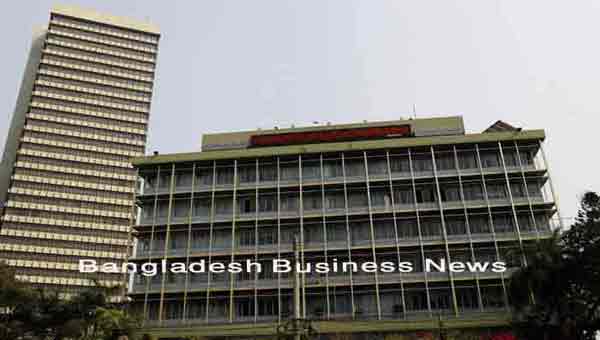 Dhaka, Bangladesh (BBN) – The BBN (Bangladesh Business News) has prepared the business round up compiling reports, published by different newspapers and news portals Thursday's midday in Bangladesh.
Foreign cos allowed issuing Taka bonds in Bangladesh
The central bank of Bangladesh has relaxed its regulations allowing foreign companies to issue Taka bonds for mobilising funds from the local sources.
Bangladesh's stocks turn mix at midday
Bangladesh's stocks witnessed mixed trend at midday on Thursday as investors were active both sides of trading fence.
Bangladesh Taka depreciates two paisa more against US$
The exchange rate of Bangladesh Taka (BDT) depreciated by maximum two paisa more against the US currency in early hour transactions on Thursday in inter-bank foreign exchange (forex) market.
Bangladesh's Uttara Bank recommends 20pc dividend
Uttara Bank has recommended 20 per cent cash dividend for the year ended on December 31, 2016, said an official disclosure on Thursday.
DBH recommends 15pc cash dividend for 6 months
Delta Brac Housing (DBH) Finance Corporation has approved the audited accounts for the six months period from July 01, 2016 to December 31, 2016 and recommended 15 per cent cash dividend, said an official disclosure on Thursday.
Crude oil holds weaker in Asia despite China Q1 crude import gains
Crude oil prices held weaker in Asia on Thursday even after trade data from China showed a solid gain in first quarter crude imports as investors focused on global demand and supply and shrugged off a drop in US inventories.
Gold prices jump in Asia on solid China trade figures
Gold prices jumped in Asia on Thursday on solid trade figures from China, particularly on imports, and on geopolitical risk sentiment and President Donald Trump's remarks on the dollar and interest rates.
Sensex down 49 points on weak macro data, global cues
The Sensex and Nifty were trading marginally down as investors indulged in cutting down their bets on disappointing macroeconomic data and a weak trend in Asian markets.
Indian rupee strengthens to 64.37 on fresh US dollar selling
The Indian rupee strengthened by 30 paisa to 64.37 against the US dollar in early trade on fresh selling of the American currency by banks and exporters.
Japanese shares drop as yen strengthens to 108 versus the dollar
Markets in Asia traded mixed on Thursday, with Japanese shares dropping amid a stronger yen against the dollar.
BBN/SK/AD