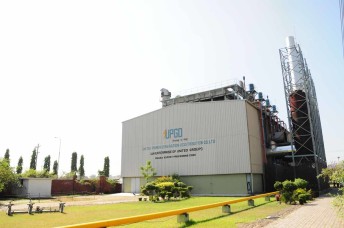 Dhaka, Bangladesh (BBN)– United Power Generation & Distribution Company dominated the Dhaka bourse turnover chart last week that ended on Thursday while top 10 traded companies grabbed nearly 29 percent transaction.
Analysts said United Power emerged as turnover leader amid dividend expectation as the company's year-end on June 30.
The board of director of the power generation company disbursed 90 percent cash dividend and 10 percent stock dividend for the year ended on June 30, 2017.
The company has reported earnings per share (EPS) of BDT 2.88 for January-March, 2018 quarter as against BDT 2.77 for January-March 2017.
In nine months for July 2017-March 2018, EPS was BDT 8.41 as against BDT 8.05 for July 2016-March 2017.
The net operating cash flow per share (NOCFPS) was BDT 8.00 for July 2017-March 2018 as against BDT 8.60 for July 2016-March 2017. NAV per share was BDT 37.71 as on March 31, 2018 and BDT 37.47 as on June 30, 2017.
About 2.84 million shares of United Power were traded during the week, generating a turnover of more than BDT 671 million which was 5.10 percent of the total DSE's total transaction.
Total turnover on the DSE stood at BDT 13.15 billion last week as the week featured only three trading sessions.
Each share of the company, which was listed on the Dhaka bourse in 2015 under book-building method, closed at BDT 247.20 on Tuesday, the last trading session before Eid-ul-Fitr vacation.
The power generation company's share traded between BDT 149.70 and BDT 249 in the last one year.
Sponsors hold 90 percent stake in the company, while institutions 6.19 percent and general public the remaining 3.81 percent as on April 30, 2018, according to DSE data.
The company's paid-up capital is BDT 3.99 billion while authorised capital is BDT 8.0 billion and total number of securities is 399.23 million.
Meanwhile, the top ten traded companies accounted for more than 29 percent of the day's total turnover transaction on the DSE.
Pharma Aids followed next, with shares worth BDT 453 million changing hands, followed by Monno Ceramic Industries BDT 443 million, Square Pharmaceuticals BDT 381 million, Grameenphone BDT 368 million and Alif Industries BDT 343 million.
Beximco was also included in the top ten turnover chart with shares of BDT 300 million changing hands, followed by Khulna Power Company BDT 296 million, Intraco Refueling Station BDT 286 million and Legacy Footwear BDT 276 million.
BBN/SSR/SR