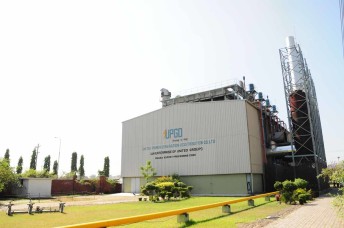 Dhaka, Bangladesh (BBN)– United Power Generation & Distribution Company dominated the Dhaka bourse turnover chart last week that ended on Thursday while top 10 traded companies grabbed nearly 25 percent transaction.
Analysts said United Power emerged as turnover leader following the news of its hefty dividend recommendation. The record date for entitlement of dividned is on January 8.
Recently, the board of director of the power generation company recommended 90 percent cash dividend and 10 percent stock dividend for the year ended on June 30, 2017.
The final approval of dividend will come during the Annual General Meeting (AGM) scheduled to be held on January 27 as the company recently received clearance from the High Court for holding AGM.
United Power informed that they filed a petition with the High Court on December 06, 2017 to pass an order condoning the delay in holding the 10th AGM of the company directing the company to hold the AGM on January 27, 2018.
"The court on December 13 has passed an order of injunction restraining BSEC, DSE and CSE respectively from treating the company as a "Z" category company for a period up to February 28, 2018," the company said in a disclosure recently.
The company has reported earnings per share (EPS) of BDT 11.50, net asset value (NAV) per share of BDT 41.22 and net operating cash flow per share (NOCFPS) of BDT 12.19 for the year ended on June 30, 2017 as against EPS of BDT 15.57, NAV per share of BDT 34.22 and NOCFPS of BDT 15.05 respectively for the 18 months period from January 01, 2015 to June 30, 2016.
The company also disclosed first quarter (Q1) un-audited financial reports for July-September, 2017 on the day. As per the Q1 reports, EPS was BDT 2.95 for July-September, 2017 as against BDT 2.83 for July-September, 2016.
About 6.51 million shares of United Power were traded during the week, generating a turnover of more than BDT 1.24 billion which was 5.98 percent of the total DSE's total transaction.
Each share of the power generation company, which was listed on the Dhaka bourse in 2015 under book-building method, closed at BDT 194.40 on Thursday, the last trdaing session of the week, gaining 7.34 percent over the previous week.
Meanwhile, the top ten traded companies accounted for more than 25 percent of the day's total turnover transaction on the DSE.
Dragon Sweater followed next, with shares worth BDT 679 million changing hands, followed by Lafarge Surma Cement BDT 604 million, Paramount Textile BDT 483 million, Islami Bank BDT 436 million, Grameenphone BDT 434 million and Square Pharmaceuticals BDT 376 million.
IFAD Autos was also included in the top ten turnover chart with shares of BDT 356 million changing hands, followed by National Tubes BDT 318 million and City Bank BDT 315 million.
BBN/SSR/SR