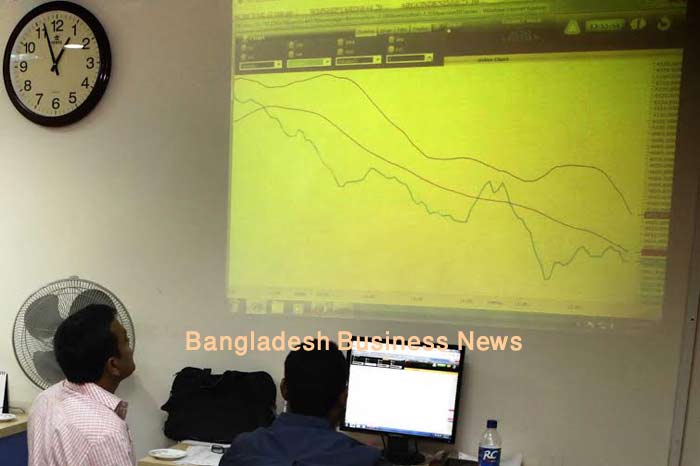 Dhaka, Bangladesh (BBN)– Bangladesh's stocks backed to the red again in the outgoing week that ended on Thursday as risk-averse investors dumped their holdings amid 'poor' earnings disclosure.
Week on week, DSEX, the prime index of the Dhaka Stock Exchange (DSE), went down by 61.55 points or 1.29 per cent to finish at 4,710, after adding 89 points in the week before.
Recent volatility in the market added further woes to the investors by poor quarterly earnings disclosures by a number of listed companies, according to experts.
The investors lost confidence in the stock market which triggered sell-off again on large-cap sectors, particularly on engineering, non-bank financial institutions and banking sectors, they added.
They also said most of the investors remained worried and maintained cautious stance while poor earnings disclosures dented their confidence further.
The outgoing week saw four trading days as the market remained closed on Sunday due to Eid-e-Milad-un Nabi. Of them, only single positive session with 9.56 points increase amidst three negative sessions which ultimately weighted more as DSEX lost 61.55 points.
Two other indices also ended lower. The DS30 index, comprising blue chips, fell 19.67 points to finish at 1,638 and the DSE Shariah Index lost 8.65 points to close at BDT 1,080.
The weekly total turnover on the prime bourse stood at BDT 13.98 billion, down from BDT 16.73 billion in the week before as last week saw four trading days instead of previous week's five.
The daily average turnover rose to BDT 3.49 billion, up 5.60 per cent from the previous week's average of BDT 3.31 billion.
Average share prices of non-bank financial institutions, textiles, telecommunications and banks dropped by 3.5 per cent, 2.7 per cent, 2.2 per cent and 0.9 per cent respectively.
Out of 355 companies whose shares were traded in the past week, prices of 222 declined, 106 advanced and 27 remained unchanged.
National Tubes led the turnover chart for the third consecutive week with shares worth BDT 491.2 million traded during the week.
Sonar Bangla Insurance, Renata, WATA Chemicals, Fortune Shoes, Square Pharmaceuticals, Shurwid Industries, Standard Ceramic Industries, Khulna Power Company and Rupali Life Insurance Company were the other turnover leaders.
Sonar Bangla Insurance performed the best during the week with a 17.26-per cent increase in its share price while Ratanpur Steel Re-Rolling Mills performed the worst, losing 14.75 per cent.
On the other hand, the Chittagong Stock Exchange (CSE) also ended lower, with its CSE All Share Price Index – CASPI – losing 156 points to settle at 14,327 and the Selective Categories Index – CSCX – shedding 90 points to finish the week at 8,708.
BBN/SSR/AD