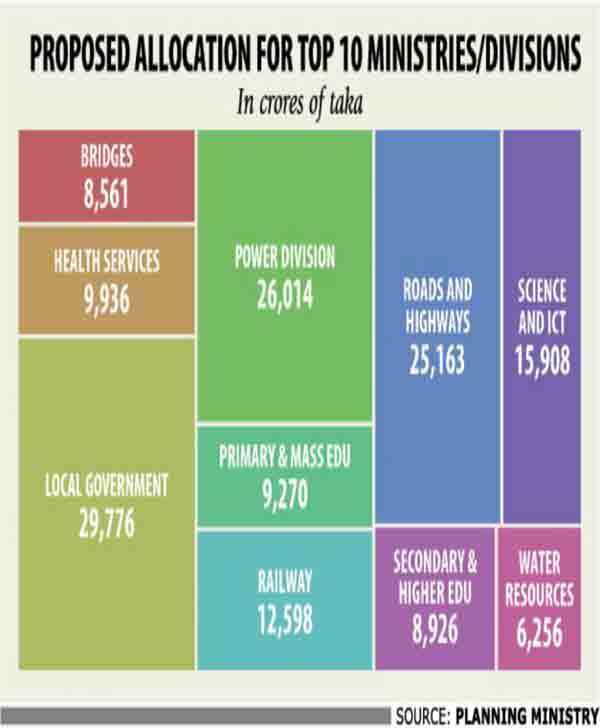 Dhaka, Bangladesh (BBN) – The BBN (Bangladesh Business News) has prepared the morning business round up compiling reports, published by different newspapers and news portals in Bangladesh.
New ADP to be 21pc bigger
The government is set to fix the size of the development budget at Tk 202,721 crore for 2019-20, up 21.39 percent from the current fiscal year, as it looks to mobilise a higher amount of foreign aid piled up in the pipeline. As of November last year, the amount of foreign aid in the pipeline stood at $48.75 billion.
Bangladesh relaxes regulation on NRTA to attract FDI
The central bank of Bangladesh has relaxed regulation allowing foreigners to open temporary non-resident Taka account (NRTA) with any scheduled bank along with authorised dealer (AD) bank branches. The rule has been revised aiming to facilitate foreign direct investment (FDI) in Bangladesh, officials said.
Fresh guideline soon on loan rescheduling
Finance Minister A H M Mustafa Kamal said the central bank will issue a revised guideline soon on default loan rescheduling. "What we've pledged so far (on rescheduling of default loans) will be stated in the guideline," he told newsmen after a meeting of the Cabinet Committee on Public Procurement on Wednesday.
'Entire export-import trade to come under scanning system'
Finance Minister AHM Mustafa Kamal has said the country's entire export-import activities will be brought under the scanning system to check tax-dodging and money-laundering. He made the remarks while briefing reporters on the Cabinet Committee on Purchase's approval of procurement of two scanners with two years of operation and maintenance on Wednesday. He chaired the meeting.
Bangladesh's stocks extend losing streak for three days
Bangladesh's stocks extended the losing streak for three consecutive sessions on Wednesday as shaky investors continued their selling binge. The worried investors continued their selling spree amid lack of confidence, liquidity shortage and rising deposit interest rate, market operators explained.
Small, medium businesses face Tk 23,700cr financing deficit
The country's micro, small and medium entrepreneurs suffer from financing gap worth Tk 23,700 crore that limits the growth of the key economic drivers, according to a study. World Bank Group and Policy Research Institute jointly conducted the study. The study report was released at a discussion on 'financing solution for micro, small and medium enterprises (MSME) in Bangladesh: findings and perspectives' at the PRI office in Dhaka on Wednesday.
NCC Bank MD asked to explain abnormal deposits
The board of NCC Bank yesterday sought explanation from Managing Director Mosleh Uddin Ahmed for his abnormally high deposits as revealed by Bangladesh Financial Intelligence Unit (BFIU). Ahmed will have to submit his side of the story within seven days, according to the board's decision.
Apparel exports grow by 12.59% in 10 months
Bangladesh apparel exports to global markets have seen a 12.59% rise to $28.50 billion in the first ten months of the current fiscal year. According to the Export Promotion Bureau (EPB) provisional data, in July-April of FY19 readymade garment sector earned $28.49 billion, up by 12.59% from $25.30 billion during the same period of the previous fiscal year.
BBN/SSR/AD