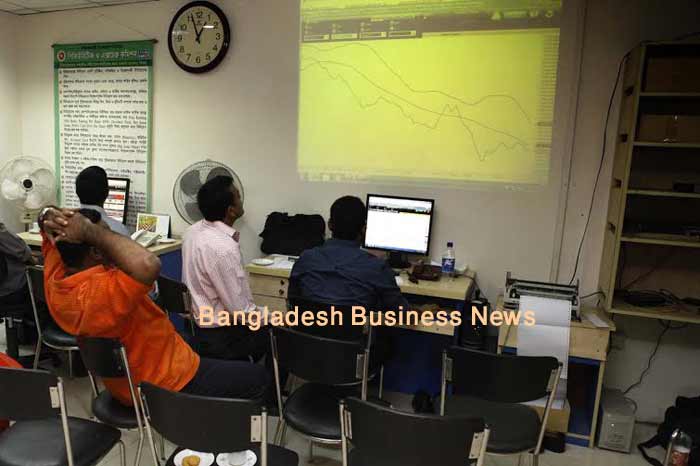 Dhaka, Bangladesh (BBN) – Bangladesh's stocks returned to the red on Wednesday, with turnover crossing BDT 10 billion-mark again, as investors went on late hours selling on banking sector stocks.
Analysts said the market ended lower as investors sold shares, especially banking issues, following the central bank's recent action on seven banks on violating the securities rules on investment.
Following the previous day's marginal gain, the Dhaka Stock Exchange (DSE) and the Chittagong Stock Exchange (CSE) opened higher amid increasing trading activities.
Within first hour of trading, the key index of the country's prime bourse crossed the 6,200-mark, advancing 73 points.
But rest of the session fell steadily, finally ended more than 33 points lower.
DHAKA STOCK EXCHANGE:
DSEX, the prime index of the DSE, which replaced the DGEN in four-and-a-half-year back, settled at 6,108 points, after losing 33.24 points or 0.54 percent over the previous session.
The DSE Shariah Index (DSES) also fell 7.26 points or 0.53 percent to close at 1,341.
However, the DS30 index, comprising blue stayed positive and advanced 1.45 points or 0.06 per cent to finish at 2,208.
However, the trading activities crossed BDT 10.50 billion-mark again and amounted to BDT 10.92 billion, which was nearly 43 percent higher than the previous day's BDT 7.65 billion.
Losers took a strong lead over the gainers as out of 332 issues traded, 225 closed lower, 79 higher and 28 remained unchanged on the DSE trading floor.
City Bank topped the day's turnover chart with 11.50 million shares of BDT 557 million changing hands, closely followed by LankaBangla Finance, Brac Bank, Uttara Bank and Aamra Networks.
Stylecraft was the day's best performer, posting a gain of 54.92 percent following its hefty dividend declaration while Shepherd Industries was the day's worst loser, plunging by 7.61 percent.
CHITTAGONG STOCK EXCHANGE:
The port city bourse Chittagong Stock Exchange (CSE) also returned to lower with its Selective Categories Index – CSCX – losing 48 points to close at 11,495.
Losers beat gainers as 177 issues closed lower, 53 closed higher and 19 remained unchanged on the CSE.
The port city bourse traded 16.60 million shares and mutual fund units worth BDT 483 million in turnover.
BBN/SS/AD