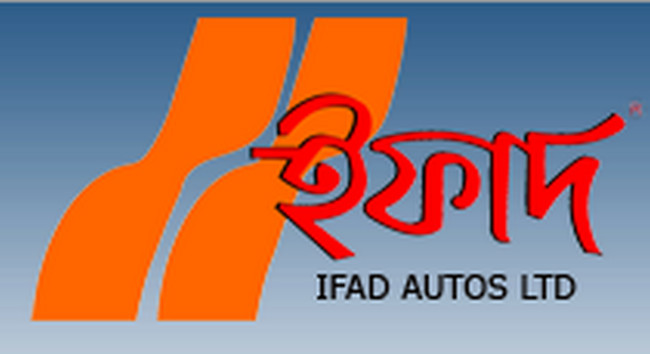 Dhaka, Bangladesh (BBN) – IFAD Autos, an automobile dealer, dominated the Dhaka bourse transaction turnover chart that ended on Thursday while top 10 traded companies captured 28 percent turnover.
Recently the IFAD Autos completed risghts shares subcripstion which raised BDT 1.24 billion through issuing 62.19 million rights shares.
The purpose of the issuance of rights shares is to raise paid-up capital for expansion of the business, to meet the requirement of working capital and to pay off debts.
The company has posted more than 144 per cent growth in earnings for the July-September quarter of 2017, compared to the same quarter of the previous year.
As per un-audited financial statement for July-September quarter of 2017, the earning per share (EPS) of the company stood at BDT 2.42 as against BDT 0.99 for July-September in 2016.
The net asset value (NAV) per share was BDT 41.07 as on September 30, 2017 and BDT 38.61 as on June 30, 2017. The net operating cash flow per share (NOCFPS) was BDT (6.46) for July-September 2017 as against BDT (1.63) for July-September, 2016.
According to DSE data, a total of 7.21 million shares of BDT 961 million changing hands during the week, which was 4.31 percent of the week's total turnover.
The average daily turnover of the company was BDT 192.
Each share of the IFAD Autos, listed on the Dhaka bourse in 2015, closed at BDT 134 on Thursday, the last trading session of the week, advancing 3.08 percent over the previous week.
The IFAD Autos disbursed 21 percent cash dividend for shareholders (other than sponsors/directors) and 5.0 percent stock dividends for all shareholders for the year endeded on June 30, 2017.
In 2016, the company disbursed 13 percent cash and 4.0 percent stock dividend.
The company's paid-up capital is BDT 2.25 billion and authorised capital is BDT 3.0 billion, while the total number of securities is 225.45 million.
The sponsor-directors own 62.77 percent stake in the company while institutional investors own 16.96 percent, foreign 3.45 percent and general public 16.82 percent as on December 31, 2017.
Among other active shares in terms of value included United Power, Paramount Textile, National Tubes, Square Pharmaceuticals, Dragon Sweater, Lafarge Surma Cement, City Bank, Alif Manufacturing Company and Brac Bank.
The top ten traded companies accounted for more than 28 percent of the day's total turnover transaction on the DSE.
United Power followed next, with shares of BDT 723 million changing hands, followed by Paramount Textile BDT 703 million, National Tubes BDT 653 million, Square Pharmaceuticals BDT 593 million, Dragon Sweater BDT 576 million, Lafarge Surma Cement BDT 575 million, City Bank BDT 533 million, Alif Manufacturing BDT 513 million and Brac Bank BDT 429 million.
BBN/SSR/SR