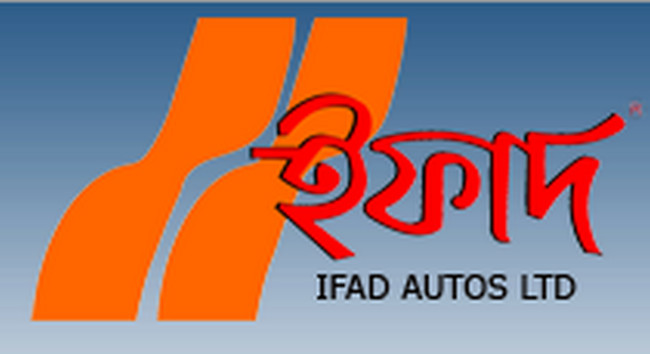 Dhaka, Bangladesh (BBN)– IFAD Autos, a unit of IFAD Group, dominated the Dhaka bourse's transaction chart last week, while top 10 traded companies captured nearly 28 per cent of total turnover.
Turnover, the crucial indicator of the market, stood at BDT nearly 30 billion on the Dhaka Stock Exchange (DSE) last week.
IFAD Autos, Doreen Power, Paramount Textile, LankaBangla Finance, Ratanpur Steel, Bangladesh Shipping Corporation, United Power, ACI, National Feed Mills and Shahjibazar Power were the most-active shares in terms of value on the DSE last week.
Of them, share price of seven companies rose up to 15.96 percent while three companies faced correction up to 8.19 percent.
According to statistics available with the DSE, some 12.03 million IFAD Autos shares were traded during the week, generating a turnover of BDT 1.62 billion, which was 5.46 percent of the week's total turnover value.
The daily average turnover for the IFAD Autos was BDT 324 million.
The auto mobile dealer's share price closed at BDT 137.40 each on Thursday, the last trading session of the week, registering an increase of 6.51 percent over the previous week.
IFAD Autos, which was listed on the Dhaka bourse in February 2015, disbursed 13 percent cash dividend to general shareholders excluding the sponsors/directors and 4.0 percent stock dividend for all shareholders for the year ended on June 30, 2016.
The company's third quarter (Q3) earnings per share (EPS) stood at BDT 2.01 for January-March, 2017 as against BDT 0.96 for the same period a year ago.
In months for July, 2016 to March, 2017, EPS for the company stood at BDT 5.05 as against BDT 3.61 for July, 2015-March, 2016.
The company's paid-up capital is BDT 1.55 billion and authorised capital is BDT 2.0 billion, while the total number of securities is 155.48 million.
The sponsor-directors own 62.77 percent stake in the IFAD Autos, while institutional investors own 19.88 percent, and general public 17.35 percent as on April 30, 2017, the DSE data shows.
IFAD Autos was, closely followed by Doreen Power with shares of BDT 1.20 billion changing hands, followed by Paramount Textile BDT 946 million, LankaBangla Finance BDT 852 million and Ratanpur Steel BDT 801 million.
Bangladesh Shipping Corporation followed next, featuring a turnover of BDT 599 million, followed by United Power BDT 581 million, ACI BDT 557 million, National Feed Mills BDT 539 million and Shahjibazar Power BDT 523 million.
BBN/SSR/SR