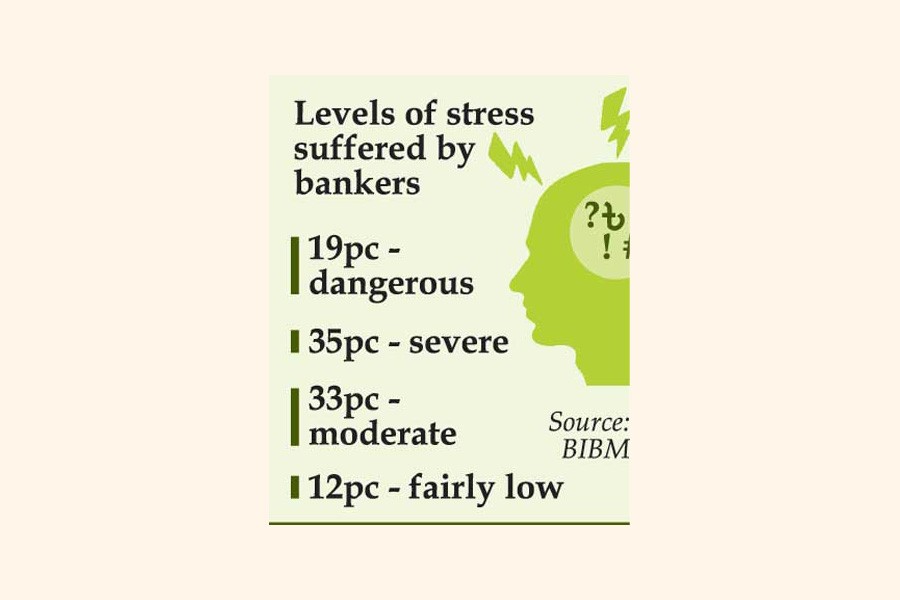 Dhaka, Bangladesh (BBN) – The BBN (Bangladesh Business News) has prepared the morning business round up compiling reports, published by different newspapers and news portals in Bangladesh.
High occupational stress grips most bank employees
More than 50 per cent of the country's bankers bear severe-to-dangerous levels of occupational stress, which causes an adverse impact on their professional and personal life, according to a study. The study has revealed that around 19 per cent of the bankers suffer from a dangerous level of stress while the stress for 35 per cent is severe, 33 per cent moderate and 12 per cent fairly low. Only 1.0 per cent is free of stress.
Tax revenue falls BDT 202b short of July-Oct target
The first four months of the current fiscal year (FY), 2019-2020, saw a tax revenue shortfall by nearly 24 per cent or BDT 202.20 billion against the target. The National Board of Revenue (NBR) collected BDT 650.96 billion in taxes during the July-October period of FY'20 against its target of BDT 853.17 billion, according to the official figures.
Foreign investor sues BSEC over mutual fund tenure extension
The High Court has recently issued a rule calling upon the BSEC, ICB and asset manager of a closed-end mutual fund to explain why a decision to extend the fund's tenure should not be declared illegal. Closed-end mutual funds are investment tools that pool a fixed amount of money for a certain period from investors and re-invest it into stocks, bonds and other assets.
NBR slashes VAT on coal imports for power plants
The National Board of Revenue (NBR) on Wednesday slashed the value added tax (VAT) on coal import for power generation to 5% from the existing 15%. A statutory regulatory order (SRO) of the revenue board in this connection said the reduced vat rate would remain effective until June 30, 2025.
Bangladesh relaxes rules on buyer's credit payment
The central bank of Bangladesh has relaxed regulations on short-term buyer's and supplier's credit borrowed from overseas sources for making payments on import of industrial raw materials. Under the relaxations, importers are now allowed to repay their foreign currency import loans at a time, which is officially known as bullet payment, instead of any quarterly payment.
BRTA approves 12 ride sharing companies
The Bangladesh Road Transport Authority (BRTA) has approved 12 ride sharing companies in line with the Ride-sharing Service Guidelines 2017 to legalize their services in the country. The services of Pick Me Ltd, Computer Network System Limited, Obhai Solutions Ltd, Chaldaal Limited, Pathao Limited, Easier Technologies Ltd, Akash Technologies Ltd, Sejesto Ltd, Shohoz Ltd, Uber Bangladesh Ltd, Buddy Ltd and Akiz Online Limited were approved to get the enlistment certificates from the BRTA recently.
Stocks post marginal gain after two-day slump
Stocks posted a marginal gain on Wednesday, after volatile trading, as late hours selling pressure wiped out most of the early gains. The market opened on upward trend and the key index of the prime bourse rose more than 32 points within 20 minutes of trading. But, rest of the session went down steadily amid selling pressure.
Govt cuts DAP fertiliser price by Tk 9 a kg
Agriculture minister Moahammad Abdur Razzaque on Wednesday said that the government decided to lower the price of diammonium phosphate (DAP), a non-urea fertiliser, to reduce the production cost of crops. At a press conference held at the ministry in the capital, Razzaque said that the price of DAP fertiliser had been reduced to Tk 16 a kilogram from Tk 25 a kg, according to a press release.
BBN/SSR/AD