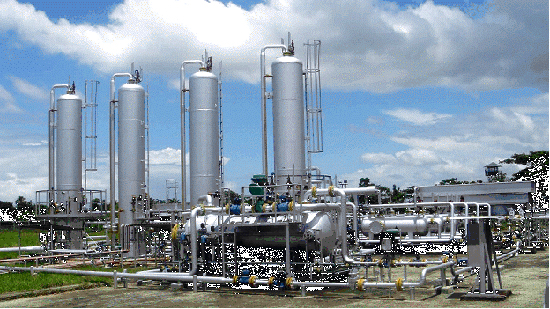 Dhaka, Bangladesh (BBN) – The BBN (Bangladesh Business News) has prepared the morning business round up compiling reports, published by different newspapers and news portals in Bangladesh.
Gas stock to end in 11yrs
The existing stock of 10.63 trillion cubic feet gas will come to an end in 11 years if the current rate of production—2,570 million cubic feet per day—continues. State minister for power, energy and mineral resources Nasrul Hamid told parliament on Monday that the total amount of extractable gas reserve in the country was 10.63 tcf and daily production rate was 2,570 mcf as of January 1 this year.
Private banks must get 50pc deposits
The government has decided to park 50 per cent of its development and revenue budget with private banks as part of its concerted effort to enforce single-digit interest rate. The autonomous, semi-autonomous and government companies also will have to keep their 50 per cent of their surplus fund at the lenders, according to a notice issued by the finance ministry yesterday.
Doubt deepens over timely completion of Padma bridge
Poor record on execution has prompted the Bangladesh Bridge Authority, or BBA, to slash the allocations for the Padma bridge project by 25 per cent during the current fiscal, officials said on Monday. The BBA has recently scaled down its fund demand to Tk 40.15 billion for the upcoming revised Annual Development Programme, or ADP, from the original outlay of Tk 53.71 billion for fiscal year 2019-20.
Farm credit disbursement grows by 5.56% in H1
Farm credit disbursement grew by 5.56 per cent in the first-half (H1) of this fiscal year (FY), 2019-20, as demand for such loan has been picked up due to seasonal effects. Disbursement of agriculture loan rose to BDT 108.00 billion in the July-December of FY '20 from BDT102.31 billion in the same period of the previous fiscal, according to the Bangladesh Bank's (BB) latest statistics, released on Monday.
Bangladesh's stocks continue upbeat
Bangladesh's stocks gained further on Monday following different moves are to be taken shortly to revamping the country's ailing capital market. The broad index, DSEX closed at 4434.24 points on the day with a gain of 52.17 points or 1.19 per cent. Besides, two selective indices, Blue Chip index, DSE30 and Shariah index, DSES also went up by 27.63 points and 17.36 points to settle at 1514.88 points and 1014.95 points respectively.
Settle essential goods' import docs quickly
The Bangladesh Bank on Monday asked the scheduled banks to take prompt measures to deal with import documents of 17 essential kitchen market commodities. The central bank on the day issued a circular in this regard to the banks based on a commerce ministry letter.
DCCI fears soaring NPLs to increase cost of doing business
The Dhaka Chamber of Commerce and Industry (DCCI) on Monday expressed its fear that the cost of doing business would increase because of the soaring nonperforming loans (NPLs) in the banking sector. The DCCI new President Shams Mahmud made the remark at a press conference at the chambers conference hall on the current economic situation in the country.
Decade of Grameenphone's rise and Banglalink's decline
Grameenphone's market share edged up about two percentage points over the past decade, thanks to huge investment in network expansion that gave the mobile operator leverage to almost double its revenue. The company has started the new decade with a 46.18 per cent share of total customers in the market, up from 42.80 per cent just five years back, according to a report of the Bangladesh Telecommunication Regulatory Commission.
BBN/SSR/AD