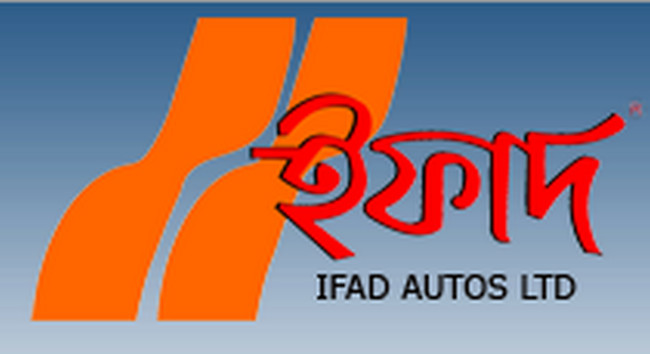 Dhaka, Bangladesh (BBN) – IFAD Autos, a unit of IFAD Group, dominated the Dhaka Stock Exchange (DSE) turnover chart last week that ended on Thursday.
Turnover, the crucial indicator of the market, stood at Tk nearly Tk 51 billion on the DSE, which was 10.40 percent lower than the previous week.
IFAD Autos, Confidence Cement, Doreen Power, Keya Cosmetics, Shahjibazar Power, Simtex Industries, Generation Next Fashions, MJL Bangladesh, Fu-Wang Food and LankaBangla Finance were the most-active shares in terms of value on the DSE.
According to statistics available with the DSE, with shares of BDT 2.49 billion were traded on the week which was 5.00 percent of the week's total turnover value.
The daily average turnover of the company was BDT 498 million.
The auto mobile dealer's share price closed at BDT 149.60, on Thursday, the last session of the week, registering an increase of 7.70 percent over the previous week.
The company's share price traded between BDT 69.90 and BDT 153.50 in the last one year at DSE.
IFAD Autos, which was listed on the Dhaka bourse in 2015, disbursed 13 percent cash dividend to shareholders excluding the sponsors/directors and 4.0 percent stock dividend for all shareholders for the year ended on June 30, 2016.
In 2015, the company disbursed 7.0 percent cash and 30 percent stock dividend.
The company's paid-up capital is BDT 1.55 billion and authorised capital is BDT 2.0 billion, while the total number of securities is 155.48 million.
Sponsor-directors own 62.77 percent stake in company, while institutional investors own 18.58 percent and general public 18.59 percent as on June 30, 2017, the DSE data shows.
Confidence Cement emerged as second, featuring a turnover of BDT 2.06 billion, followed by Doreen Power BDT 1.73 billion, Keya Cosmetics BDT 1.50 billion, Shahjibazar Power BDT 1.17 billion and Simtex Industries BDT 1.03 billion.
Generation Next Fashions was also included in the top 10 turnover chart with shares of BDT 990 million changing hands, followed by MJL BD BDT 960 million, Fu-Wang Food BDT 955 million and LankaBangla Finance BDT 945 million.
BBN/SSR/AD